Nowadays, finding a high-quality, helpful, and a workable remote work tool has become very important. The coronavirus pandemic has stunned the world and affected businesses across the world. This is the reason companies, institutions, and individuals opt to find the right remote work tool that helps them work from home.
A feature-full remote work tool can help an employee to communicate with his or her company teammates, share ideas in real-time, and implement workable solutions. This helps the company to maintain its operations and productivity.
There are hundreds of digital platforms and tools available, but not all of them work adequately. In this article, we will talk about the top 7 remote work tools list that is needed by almost everyone. Read on!
1. FlipHTML5
With FlipHTML5, you can say goodbye to boring PDFs. FlipHTML5 is recognized as one of the best remote working tools, enabling you to convert ordinary PDF files into interactive flipbooks while you're working from home. Images, video, and audio can be easily added to your flipbook to provide an immersive reading experience. Also, the flipbooks can be shared with your leaders, colleagues, and customers via email, social networks or QR codes.
1. FlipBuilder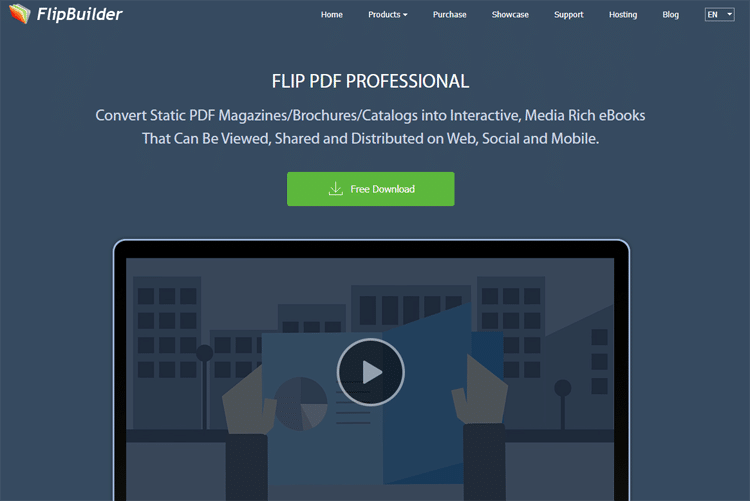 FlipBuilder offers an easy and simple method to batch convert PDF files into high-quality flipbooks. This remote work tool comes with a wide range of features, for example, it offers design templates, easy-to-use navigation, page flip animations, and sound effects.
The most interesting feature of FlipBuilder is that it allows you to publish flipbooks to the web, share it on mobile devices, through emails, and even distribute your flipbook on CD-ROM, Mac, etc. You can use pre-designed templates and customize the design according to your needs. Likewise, you can add images, videos, and links in it.
2. Hub Staff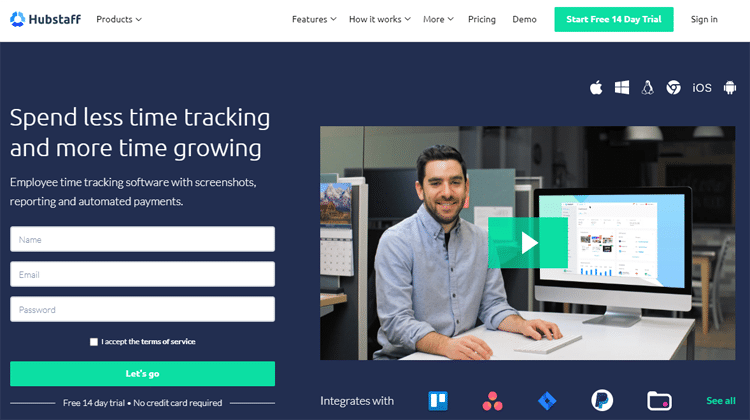 If you are a manager and have a team that you want to monitor, assess, and control, then you need a high-quality remote work tool known as Hub Staff. This is a simple software application that you and your team will install on their computers, mobiles, or any other communicative device.
You can use this tool to track your team members' time, activity levels, and evaluate their performance. You can even take screenshots. You select a project and the application track time and activity to that particular project – allowing you to view the activity. Other features of the tool include GPS tracking, productivity monitoring, online timesheets, team scheduling, geofencing, and reporting.
3. Slack
Slack is a remote work tool that you can use for communication purposes. It allows instant messaging, which you means you can go live with any member of the team to discuss your company's operations, projects, tasks seamlessly.
You can set availability statuses for users to monitor and evaluate individual tasks as per your requirements. File sharing is another great feature of this remote work tool as Slack enables you to share images, videos, and other file types. The drag and drop feature further enhances the user experience (UX).
Use Slack to make direct voice and video calls. Screen sharing allows users to share their work in real-time and this promotes teamwork collaboration, easy communication, and flawless remote company operations. Thus, it increases your company's productivity.
4. Instagantt
Instagantt is one of the most popular management software that is useful for teams working on project plans. This remote work tool is best for designers, engineers, product managers, developers, marketers, and sales teams. In fact, this is a versatile tool offering a variety of features and applicable in every industry or business.
Instagantt comes with many unique features such as pre-designed templates for project planning, task management, progress tracking analytics, and milestone tracking. It also allows for better communication with its Notifications/Alert feature. All these features make it one of the best remote work tools for project managers.
5. Google Drive
Google Drive is a popular online file-sharing storing and sharing platform. Companies and individuals both use Google Drive to securely store and access their important/confidential files. It has an easy-to-use interface.
You can share files using a custom link. Not only does it allow you to store PDF or Word files, but you can also store and synchronize photos, videos, and presentations. Google Drive offers backup for your precious files. It has an effective built-in search engine to easily locate and retrieve files, thus saving you time. More interestingly, you can edit various types of documents.
6. Teamwork
Teamwork is another remote work tool, which is specifically designed to provide companies and businesses with cloud-based project management software. The tool offers a variety of features and functions, including task lists, file uploads, time tracking, and messages.
You can use this software to manage your team objectives, communicate with them easily, and create sophisticated business processes. It also comes with a project scheduling feature, which is useful for teamwork. This allows you to define tasks for the project team and assign them to each member. So, you can easily track the progress of each of your team members and as a whole.
Document management allows you to share files with members of the team via an online portal. You can also generate invoices using the client billing feature that is integrated into the Teamwork remote work tool. So much so, you can integrate this tool with other apps such as Google, Dropbox, and Fresh Books.
7. Zoom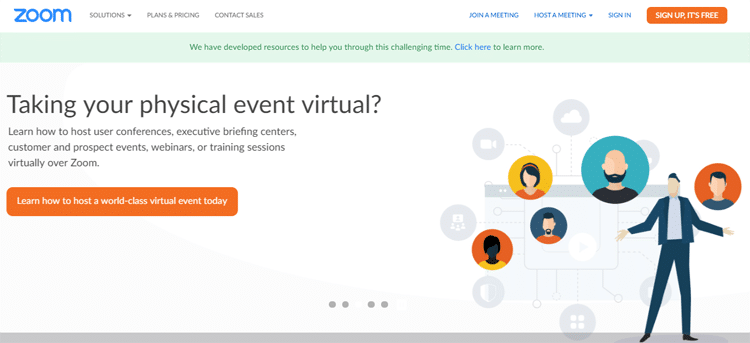 Last but not least, Zoom is rapidly becoming a favorite remote meeting tool for companies and individuals. It is powerful software, a video conferencing tool with High-Definition audio/video quality.
The software allows you to share the screen with others. This tool, in particular, has become even more important for educational institutions that have implemented online education systems.
Zoom also offers a meeting chat feature, which you can use to share your message with anyone or everyone participating in the meeting. This feature is useful when it comes to avoiding distractions or not interrupting your team member talking. Zoom has a full screen, gallery view, and password-protected video meeting functionality.
Wrapping Up!
Businesses, educational institutions, government offices, and individuals – everyone relies on technology tools, especially in this pandemic situation. To maintain social distancing and keep up your company or business operations, it is best to opt for the software and tools mentioned in this article.
Surely, this remote work tool list will help you in many ways such as establishing communication, maintaining adequate workflow, improving productivity, and much more. Good Luck!