If you are someone that has completed his/her book and looking to self-publish online, you can do it with the help of a desktop publisher, like MS Publisher.  This kind of software gives authors the power to instantly self-publish electronic books as a Portable Document Format (PDF) from their very home computers, and even upload it in their website, or sell it online, via eCommerce platforms like Amazon.
MS Publisher
is one of the most recognised and trusted
e-publishing software
out there, and this is a step by step guide on how you can make an eBook in MS Publisher, and convert it to PDF.
Learn about Flip PDF Digital Flipbook Creator Software
Best Desktop Digital Publishing Software for eBooks & Magazines
Step 1: Prepare Your Manuscript PDF Conversion
The first step to digital publication or print is the transition for your good old MS Word file, to a PDF document. While you can choose other file format of XPS, the PDF format is the most recognised
"read only"
file format at all publishing platforms, be it websites, Kindle, or while printing. PDF will support all your metadata, graphics and page layouts, as it is, when printed, or read in different devices.   To prepare for the publication, all you need to do is save it as an MS Word Document in your computer. While you can make final proofing and formatting of your book, with fonts, graphics, table of contents and everything, inside of MS Publisher. It's a matter of choice where you wish to final proof your manuscript.
Step 2: Open Your File in MS Publisher
Launch MS Publisher, on the main window, select
"File"
then
"Export"
and finally,
"Create PDF/XPS"
. This will open up the window showing your file folders, select the MS word document you have previously saved by double clicking on it, and it will bring the file in your MS Publisher environment. Now go to
"Save As"
and save your now MS Publisher file as a PDF.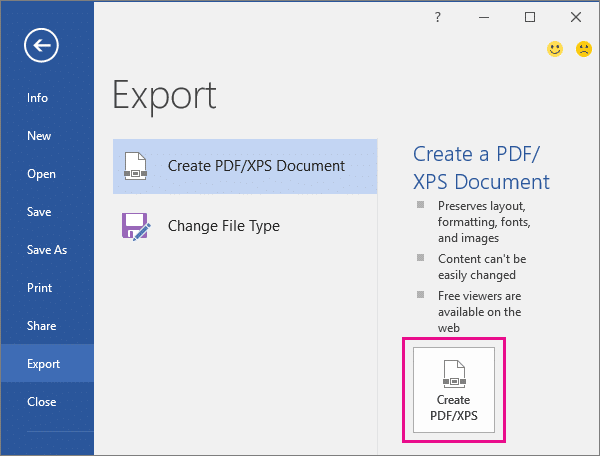 Step 3: Final Setup Of PDF File To Make It Ready To Publish
Once you have saved your MS word file as MS Publishers. You can further edit and re-format your manuscript in the MS Publisher. You can add new templates, edit font or styles, and insert images, all in all, carry out all the due diligence for final proofing.
Then go to
"Options"
section in MS Publisher toolbar, and choose the options from under the "Specify how this publication will be printed" heading. The options are
Minimum Size – this is the simplest format of a single page document for online viewing. Fittest for journals, and short stories, and write-up without images, for it will reduce the resolution in images.
Standard — this is the standard publication option that allows online distribution, emailing, and printed via desktop printers.
High Quality Printing — ideal for quality digital publications as an eBook, for online readability and copy shop printing.
Commercial Press — the bigger and better format than high quality, is best to restore high quality images in higher resolution.
Custom — this is the option wherein you can customise the page setup, and page layout type.
Note:
The higher the size of your PDF, and inclusion of images and multimedia, the longer it may take to download for your readers. Finally, click ok, and then
"Publish"
to have your PDF file ready, which you can instantly upload online, and let your readers read and download the file.
Things To Remember
It's important that your computer does support PDF conversion from the MS Publisher. You can find it out whether you have it in your device by going to the
"Files"
folder in your computer, and then in the
"Printer"
options. If your computer supports PDF file conversion, then there will be an option, otherwise, you will need to install a PDF maker, or can even use web based software available in the internet. At last, if you want to convert PDF file to a
page flipping magazine
like the demo below, you can have a test of Flip PDF software. Just import the PDF document, you can turn PDF file into beautiful flipping eBook with a couple of clicks.
Best Desktop Publishing Software for Publishers