Picture brochures, digital magazine, or photo albums with stories to tell; importing images and creating virtual books is way easier with the Flip PDF eBook conversion software, developed by FlipBuilder. Flip PDF is a powerful tool to create diverse flipbook designs with pictures, sound, videos, YouTube links and other multimedia. From purchasing, installing to converting your PDF file, all of it can be carried out in a matter of minutes, that's the speciality of this simple and ready to use suite. Here's a quick tutorial and useful designer tips, on how you can create your very own page flipping photo e-book.
Interactive Photo Book Created by Flip PDF
Best Desktop Digital Publishing Software for Photo Albums & eBooks
Step 1 — Importing Images
If you don't already have the software installed in your PC, you can refer to our other articles containing a step by step guide to purchase, download and install the same. This article focuses on importing your pictures and enriching the photo ebook with essential effects and design customisations.
Starting with the "Project Panel" of your FlipBuilder desktop application, import your PDF file, by simply clicking "Create New" when you are starting from scratch. This will launch the "Import" window wherein you can optionally import multiple images at once.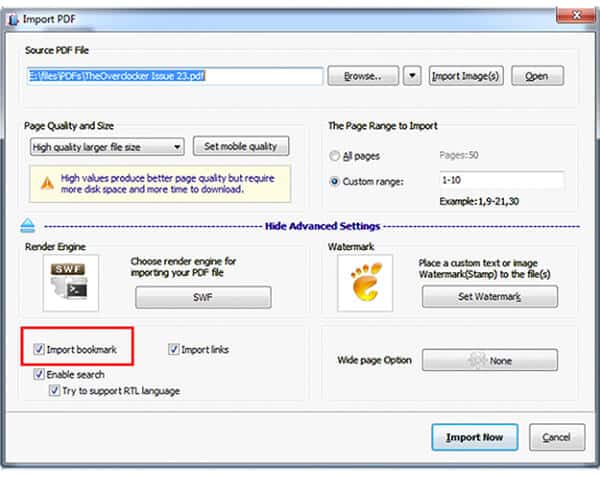 While doing so, you get the options to set your page size and quality. There are 5 different quality options, the higher the quality, the better the pictures you get, but that also means your files will require more disk space. It is essential that you, that your photo e-book is integrated for mobile viewing, so don't overlook the "Create Mobile Version" within the "Options" section that will do the job.
Once this is done, select the range of your flipbook, and choose the render engine, in which you wish to convert the whole thing. You have the options – SWF, GPL Ghostscript and Inner Library.
Lastly, configure your flipbook file, by importing bookmarks, that's essential for setting a table of contents, import links of the source images, check the box to "enable search" so that your book can be searched using keywords.
Now that your import is successful, you can now customise the default flipbook with further design elements.
Enrich Your Photobook with Multimedia
With the powerful Page Editor in Flip PDF, users are allowed to add video, audio and animation to the photo book. Click the "Edit Pages" button in header of the software, the software will open a new Page Editor Window, in this new interface, you can edit the page of photobook and add rich media. Click the item you want in the toolbar, you can embed what you want to the page, include YouTube video, MP4, audio, Flash animation, shapes, text and more.
Publish Your Photo Book Online
You can use the "Preview" window to see how the actual thing will appear online, and once you are satisfied with the product, then you can go on to publish your book online, at various platforms. Simply, click on the "Publish" button that will appear on the top panel. From then on you may choose from the following outputs:
Standard Output: that is save it to your local hard drive, as an HTML, EXE, App, FBR file.
Advanced Output: this is the route to directly publish your flipbook to your WordPress, Joomla or Drupal website. You can do it via FTP server, or email it as well.
Best Desktop Publishing Software for Publishers