With digital books spreading by leaps and bounds, even budding authors find the motivation to come up with their novels with minimal hassles and reach a wider audience of bookworms spread across the world. However, for a beginner or a tech-savvy individual, the entire process of creating and publishing a hardcover book is a little intimidating. Therefore, this article intends to guide you through it, using an extremely user-friendly software of Flip PDF, showing you that it's actually a cakewalk.
Interactive Digital Brochure Created by Flip PDF
Best Desktop Digital Publishing Software for Online Brochures
Step 1: Import the final draft appearing in a PDF format
Let's assume that you have already drafted the content and converted it into a PDF version. However, to enjoy the software interface and play with its features, one must import the creative content and
convert it into a page flipping book
.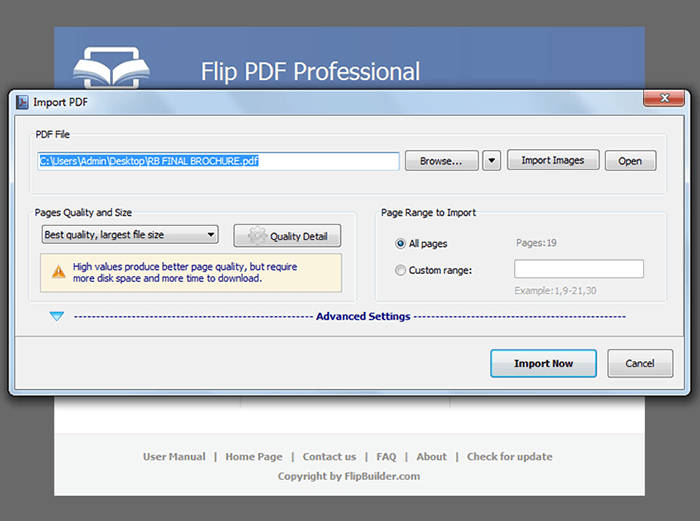 Once done, wait for the tabs- 'Edit Pages', Apply Changes' and 'Publish' tabs to appear on the screen.
Step 2: Enrich the content with multimedia to enthral the readers
Since the motto of every author is to enhance the shelf-life of his/her book, the best way to proceed would be to introduce a plethora of interactive features to it and upgrade it into an animated one. The 'Edit Pages' toolbar holds innumerable options. From insertion of links, engaging YouTube videos, melodious audio to slide-shows, one can insert it all, only to provide it with a realistic effect.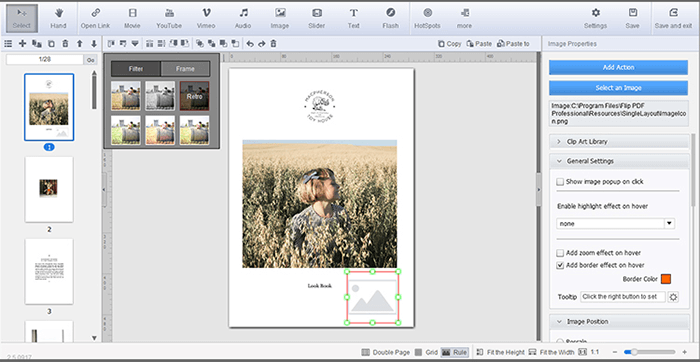 Furthermore, to lend it more of an ebook essence, one may leverage on the endless opportunities materialising as 'Design Tools', 'Table of Contents', 'Bookmark Tabs' and 'Templates & Language' in the main interface. Here's what you could embed:
Imprint watermark
Decide on a suitable page quality
Apply chic templates
Import range
Transform the design of book cover by scrolling over to 'options' and selecting 'book cover'.
Now that you have worked on the visuals and incorporated every element that brings it close to an outstanding digital publication or an ebook, it's time you provide it with a finishing touch. The upcoming step would intimate you on the same.
Step 3: Customise it to add to the book a hard 'front' and 'back' cover
The role of Flip PDF Pro as a software suite of Flip Builder doesn't end with the enriching part, transforming a dull and dreary book reading experience into an interactive one with flip-style pages, but also offers realistic effects. One such special effect is changing the cover to a hardback/front cover. To complete this step, one might follow the steps below:
Move over to 'Design Settings' and select 'Book' from it
Click on 'Background Config' to proceed
Turn on 'Yes' from the options to decide for a 'hardcover'
Scroll over to the 'apply changes' button to confirm it
If you are still finding it difficult to comprehend, take a cue from 'How To Make A Hardcover' video to complete this step.
Step 4: Publish and distribute it in a suitable format
Since the created ebook can be generated into different file formats, Flip Builder truly impresses the audience and proves to be a unique software any given day. One is blessed with the opportunity to enjoy it in standard output formats like CD, APP, EXE, HTML, or derive it as an advanced output namely FTP server, Plugins and Screensavers. The shortest route to it has been listed down below:
1.
Take the cursor to the 'Publish' button, and from the drop-down menu select 'Publish' again
2.
Choose from the inexhaustible list of options- .EXE, HTML, .APP etc
3.
Since the most desirable option is 'HTML' and the ideal loading sequence is either 'Flash-HTML5' or 'HTML5-Flash', it's best to check on one of them
4.
If the need arises, one may even click on the 'Advanced option' to edit descriptions and modify the title. Once moulded into a suitable format, it's ready to reach the bookworms all around and conquer their hearts with your creativity. A word of advice would be to retain the ebook URL, once it's published.
Conclusion
It's finally time to embrace the new technology and create something unique that would sell well online. With the
flipping-page effect
teamed up with an original idea, the chances of your ebook enjoying a better shelf-life and attracting a greater audience base are confirmed. So go ahead and download the Flip PDF Pro today!
Best Desktop Publishing Software for Publishers