The idea of a booklet is really straightforward. You can transform draggy presentations, promotional materials into interactive, catchy content that people actually find interesting. So given the stance of your booklets, that can be about brochures, catalogues, prospectus, itineraries, program guides, digital magazines or a strip of comics, any professional or academic digital booklet designs can be converted into attractive "Flip Books" with Flip PDF Professional. And what's more, you can add custom videos, special animations and audio to represent the whole thing in a sophisticated form of media. Here's how you can do it with a few clicks of the mouse, without any prior knowledge of graphic designing.
Getting Started With Your PDF File
The first step to creating awesome flip books is to have the idea laid down in a PDF format, together with images. And save it in your desktop. Next up, you need to download the Flip PDF software, which you get directly from the website of FlipBuilder. Just hit on the "download" button bellow, then save the EXE file on your desktop. That will successfully launch the software. Flipbuilder provides the PDF to flipbook software for both Mac and Windows platforms.
Best Desktop Digital Publishing Software for Magazines/Brochures
Once you have launched the suite, you can see the icon your desktop, or the destination you have save it in your computer. Double click on the icon to open it. To start a new project, click on the "new project" button, in the facing page, then select the PDF you wish to convert.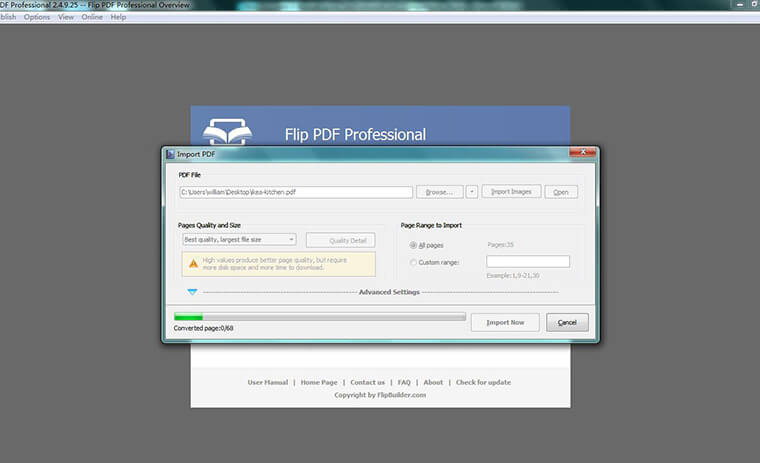 Double click the desired file and it will instantly open into the new flip book.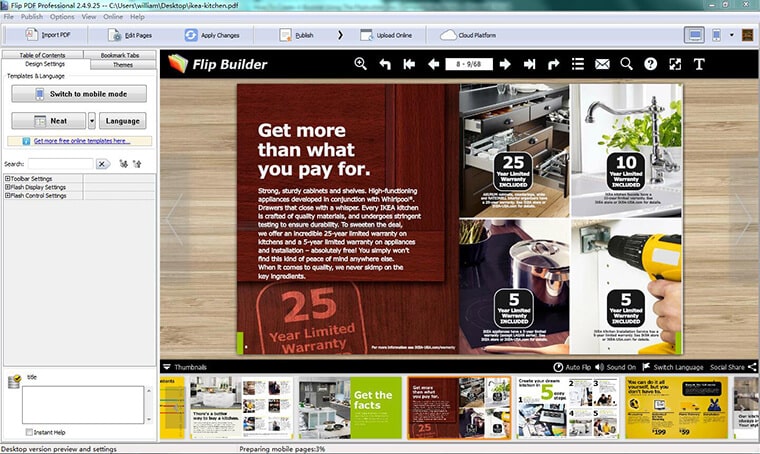 Once you have your file created, you can go back and forth to edit it as you desire. You can select from the side panel, to customise the background, and theme of your booklet. You can also change the viewing format, for desktops and mobiles at the top right corner. You can also insert "bookmark" tabs to help your readers navigate more efficiently.
Publishing at Various Platforms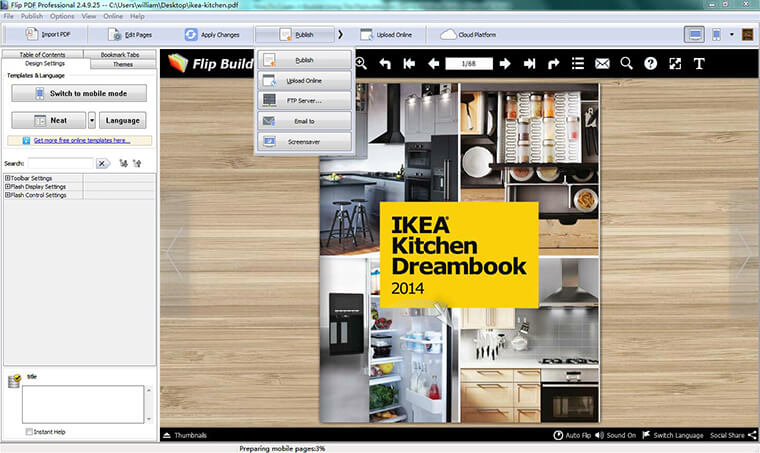 Once you are done editing your flipbook, you can then publish it in your desktop for use. There two ways you can publish the flipbook — standard output and advance output. The standard output supports the file formats of HTML, EXE, App, FBR, mobile version and Burn to CD. While the advanced output supports direct web publishing, using built in FTP server, that can be published to WordPress/Joomla/Drupal platforms, or and can be directly emailed as well. You can also directly upload your flipbook online, without the need of FTP or other tools. You can just hit on the "Upload Online" button, to upload your flipbook into the web server of FlipBuilder. In order to accomplish this, you must have an account at FlipBuilder, if not you can just create one in the process using your email address and setting a password. Once you log into your account, you get options to customise the Title and Description for your book, enable mobile version and HTML versions as well. If this is a newer edit of an existing book, you can use the "Override An Excisting Book" feature to update the book with latest edits. Finally, hit the "publish" button, to upload your book to FlipBuilder Cloud Host.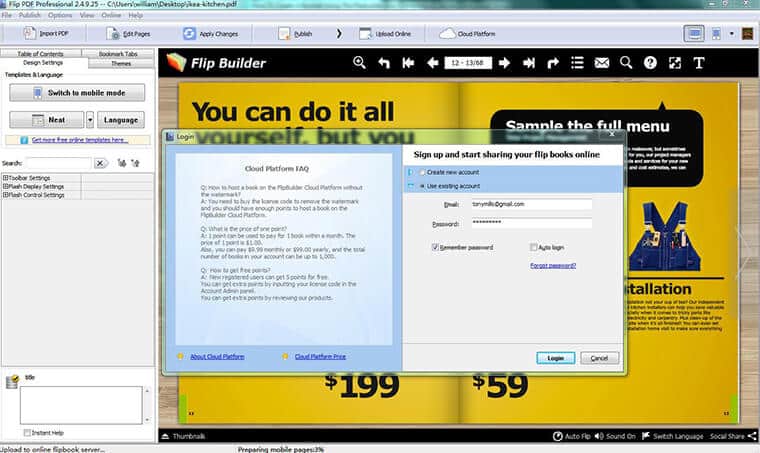 This will allow your books online in their browser on their PC, Mac, iPhone, iPad and Android devices.
Best Desktop PDF Booklet Software for Publishers