Are you tired of converting PDF files one by one? Do you have a large number of PDF files that need to be converted? If that's the case, then batch PDF conversion is the solution you've been searching for. This blog post will introduce you Flip PDF Plus Pro, a robust tool developed by FlipBuilder, that can help you convert multiple PDF files in one go.
Why Use Batch PDF Conversion?
Batch PDF conversion has several advantages over converting PDF files one by one. First, it saves time. Instead of spending hours converting each file individually, you can convert all the files at once. Second, it is more efficient. You don't have to keep track of which files you have converted and which ones you haven't. Finally, it is more accurate. When you convert files one by one, there is a greater chance of making mistakes. With batch PDF conversion, you can be sure that all the files are converted correctly.
Bulk PDF Converter Developer – FlipBuilder
FlipBuilder is a software company that specializes in developing digital publishing software. The company's flagship products, Flip PDF Plus, Flip PDF Plus Pro, and Flip PDF Plus Corporate, are not only bulk PDF converters that enable users to convert PDF files into interactive digital publications, such as ebooks, magazines, and brochures, but also help enhance PDF performance in various ways.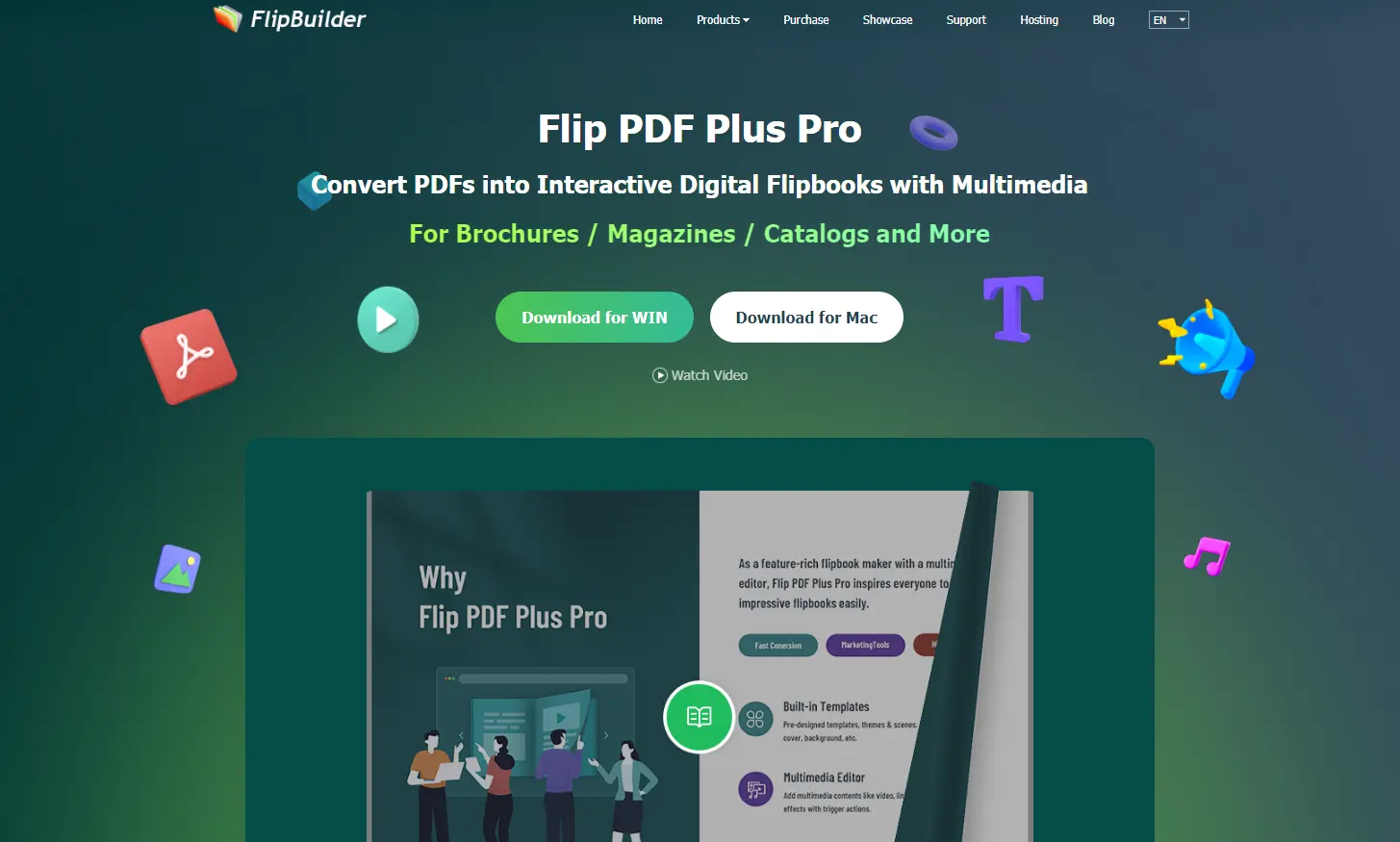 FlipBuilder's software programs have the ability to create responsive publications that can be viewed on a range of devices, including desktop computers, tablets, and smartphones. This makes them an ideal tool for businesses and individuals looking to create digital publications that can be accessed by a wide audience. Among them, Flip PDF Plus Pro is the most popular one, as it also supports multimedia element insertion to make PDFs interesting and interactive. This blog will introduce how to convert multiple PDF files using FlipBuilder's Flip PDF Plus Pro.
How to Use Flip PDF Plus Pro for Batch PDF Conversion
Using Flip PDF Plus Pro for batch PDF conversion is easy. Here are the steps:
Time needed: 5 minutes
Download and install Flip PDF Plus Pro

Visit the official website of FlipBuilder and follow the instructions provided. The software is available for both Windows and Mac operating systems. Once you have downloaded the software, you can install it on your computer by following the installation wizard.

Launch the program and add PDF files

After installing Flip PDF Plus Pro, launch the program on your desktop. Once the program is open, click on the "Batch Convert" button to begin the conversion process. Click on the "Add PDFs" button and select the PDF files from your computer. Alternatively, you can directly add a folder to import PDFs.

Choose publishing settings

Select your desired publishing format, like HTML, EXE, APP, APK, and Plug-in. Choose the output path where you want the converted PDFs to be saved. Also, there are conversion settings, for example, page cutting mode, and templates for you to quickly enhance your PDFs.

Start the conversion process

click on the "Convert" button to start the conversion process. The software will convert all the selected files in one go, saving you time and effort. Once the conversion process is complete, you can open the folder to check them.
Flip PDF Plus Pro not only has the batch PDF conversion feature, but also allows you to batch upload your PDF online, which needs FlipBuilder's add-on hosting service to support. If you are interested in this, you can try it for free first! (By the way, FlipBuilder's other two software can do this too.)
Conclusion
After a brief reading, you now know that batch PDF conversion can greatly save time and effort, and it is pretty easy and convenient for FlipBuilder to do so. Flip PDF Plus Pro not only can convert multiple files in one go, but also supports multimedia element insertion. Download Flip PDF Plus Pro today and start converting your PDF files in batches!