In today's digital age, the demand for efficient ways to share documents has led to the proliferation of numerous online platforms. When it comes to seamlessly hosting and sharing your PDF documents, the power of PDF-sharing websites becomes paramount. These platforms offer a convenient solution for individuals, businesses, educators, and creatives alike, enabling them to disseminate important information and resources effortlessly. To aid you in finding the perfect platform, we've compiled a list of the eight best PDF-sharing websites that cater to your diverse document-sharing needs.
Flip PDF Plus Pro stands out as a comprehensive solution for those seeking a seamless way to upload and share PDFs online. This versatile platform goes beyond simple file hosting, allowing you to transform your static PDF documents into captivating and interactive flipbooks. With Flip PDF Plus Pro, you can enhance your content with multimedia elements like videos, audio, and animations, creating an engaging reading experience for your audience. Whether you're a marketer presenting product catalogs, an educator sharing course materials, or a creative showcasing your portfolio, Flip PDF Plus Pro's user-friendly interface and advanced features make it an invaluable tool for elevating your PDF sharing to a new level, ensuring that your content leaves a lasting impression on readers.
Calameo presents a sophisticated platform for individuals and businesses seeking an elegant way to share PDF documents. As an innovative digital publishing tool, Calameo empowers users to transform static PDFs into interactive and engaging publications. With features like page-flipping animations, multimedia integration, and customizable designs, Calameo adds an extra layer of dynamism to your shared content. Whether you're distributing magazines, catalogs, brochures, or educational materials, Calameo's user-friendly interface and versatile options make it a go-to choice for those looking to elevate their PDF-sharing experience to a whole new level.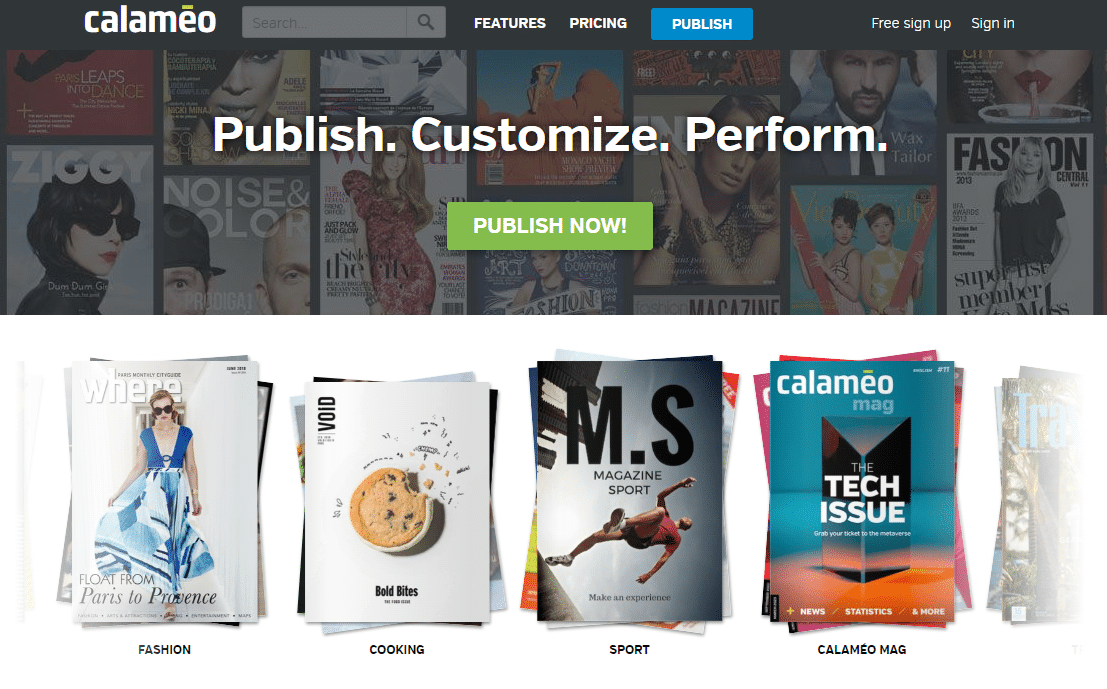 DocHub shines as a user-friendly and efficient PDF-sharing website tailored to streamline your document management needs. With DocHub, sharing PDFs becomes a seamless process as you can easily upload, edit, and collaborate on documents in real-time. Its versatile toolkit includes features such as annotation, electronic signatures, and text editing, allowing users to mark up and enhance PDFs directly from the platform. Whether you're finalizing contracts, collaborating on reports, or providing feedback on assignments, DocHub's intuitive interface and comprehensive tools make it an invaluable asset for individuals and teams seeking a straightforward yet powerful PDF sharing and editing solution.
FlipHTML5 stands out as a dynamic PDF-sharing website that offers a creative twist to document dissemination. With its innovative platform, FlipHTML5 enables you to transform static PDFs into captivating and interactive flipbooks that engage your audience on a whole new level. Seamlessly integrating multimedia elements like videos, audio, and animations, FlipHTML5 transforms your content into an immersive experience. Whether you're a marketer showcasing your products, an educator sharing course materials, or an author presenting your work, FlipHTML5's interactive features and customizable designs provide a unique and visually appealing way to share PDFs online, capturing the attention of readers and make your documents indeed come to life.
Yumpu has carved a distinctive niche as an innovative platform catering to seamless PDF sharing and document interaction. With Yumpu, uploading and sharing PDFs takes on a new dimension, transforming your static files into dynamic digital publications. By blending user-friendly functionality with customizable design, Yumpu empowers you to engage your audience through immersive experiences, integrating multimedia elements such as videos and links. Whether you're distributing professional documents, creative portfolios, or educational materials, Yumpu's versatile features allow you to elevate your PDFs, enabling easy sharing and a lasting impact on your readers.
PDF Archive offers a straightforward and convenient platform for sharing PDF documents seamlessly online. As the name suggests, this platform specializes in archiving and sharing PDF files, making it an ideal choice for preserving important documents and making them accessible to a broader audience. Whether you're storing research papers, reports, or manuals, PDF Archive's simplicity ensures that your documents are easily uploaded, stored, and shared with others. With its focus on efficiency and accessibility, PDF Archive provides a practical solution for those seeking a reliable platform to host and distribute PDFs without the fuss of extensive features or a complicated interface.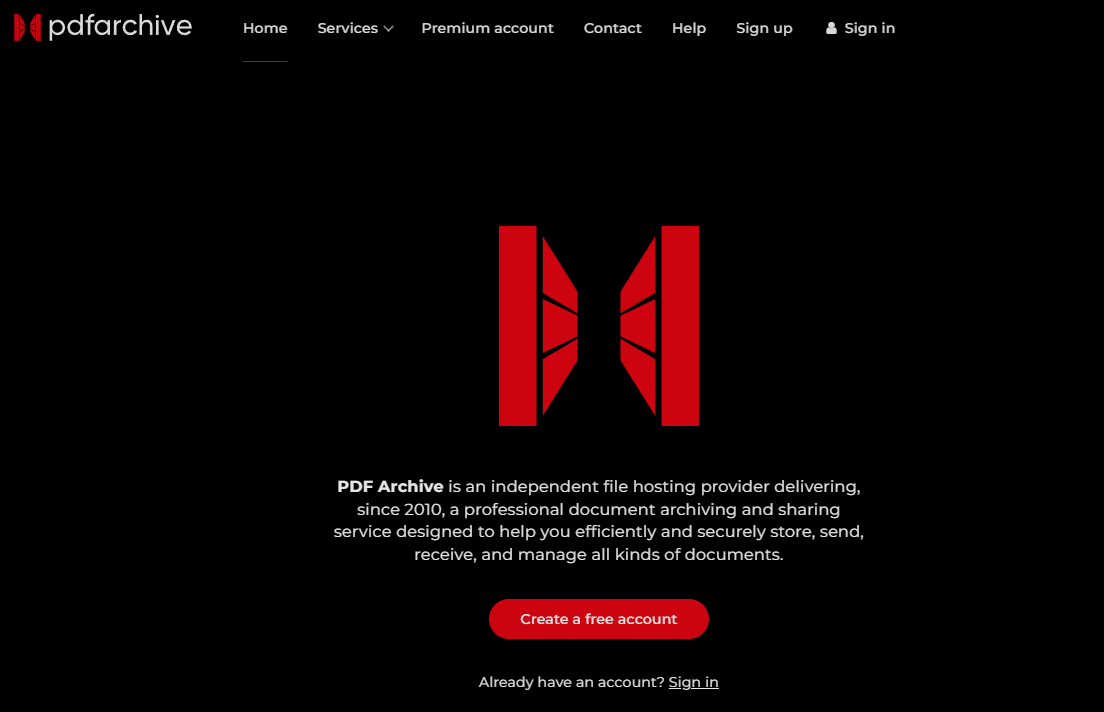 Edocr is a niche PDF-sharing platform facilitating easy distribution and access to significant documents. Geared toward professionals and businesses, Edocr offers a tailored space for uploading and sharing PDFs with expertise and industry insights. This platform simplifies document storage and provides features to optimize content, generate leads, and enhance content discoverability. From insightful whitepapers to industry reports, Edocr's specialized approach ensures that your PDFs find their way to an interested audience while fostering knowledge exchange within specific sectors and domains.
PDF Buddy is a dynamic PDF-sharing platform that goes beyond the basics, providing a comprehensive toolkit for streamlined collaboration. With PDF Buddy, you can upload and share PDFs and edit, annotate, and add electronic signatures online. Say goodbye to the hassles of downloading and installing software – PDF Buddy offers a hassle-free experience for individuals and teams working on contracts, forms, and educational materials. Its user-friendly interface and collaborative features make it a go-to option for those seeking efficient and effective ways to share and edit PDF documents online.
In Conclusion
In a world where information sharing is paramount, these eight best PDF-sharing websites offer a range of solutions to host and distribute your PDF documents online effortlessly. These platforms cater to diverse needs, from the interactive features of Flip PDF Plus Pro and Calameo to the collaborative capabilities of DocHub and PDF Buddy. With their intuitive interfaces, customization options, and powerful tools, these platforms ensure that your PDF documents are not only accessible but also engaging for your intended audience. Whether you're an individual, business, educator, or creative, these PDF-sharing websites pave the way for seamless document sharing in the digital age.
Convert Your PDF to A Flipbook Easily