Just to make a difference, is it possible to make an animated poetry book? – Yes we can! Make it more attractive even without compromising your resources.
What Is Poetry Book?
Poetry is a type of literature, emotionally expressed with quality and beauty. It conveys a deeper meaning in words with a distinctive style and rhythm. Some poetry that we continue to see everyday: Free Verse, Narrative, Lyric and others. In this modern age, self publishing writers take advantage of social media in promoting not only books but also poetries. Little we didn't know, the greeting cards that we share online, the short 'sayings', those 'quotations', these are all poetries. We usually see it as posts in Facebook, Instagram, Twitter and others. While others have it in poster style, some are seen with animation. A quick and easy way to promote poetry is by using Flip PDF.
What Is Flip PDF
Flip PDF was derived from the word flick, meaning to turn.
Flip PDF
is a type of software that enables users to professionally create an easy animation converting ordinary PDF files into an impressive Flash and HTML publications with compatibility to almost all devices.
Learn about Flip PDF Digital Flipbook Creator Software
Best Desktop Digital Publishing Software for eBooks & Magazines
You can use Flip PDF and animate the following materials:
e-Books
, e-Magazines, e-Newsletters and many more.
Start Your Online Poetry Book
1. Choose Your Platform
Unlike standard publications, online poetry requires special designs to make it more attractive and be shared by a lot of people. If you are starting with little knowledge, then Flip PDF is the right publishing tool for you. It is easy to use and navigate.
2. Create New Project
Start your poetry book by uploading an existing PDF file. Proceed with editing. Apply stunning design to your online poetry.
3. Design
Flip PDF offers a lot of pre-designed templates available to choose from. You can customize online poetry book in a few minutes with minimal edits, taps and swipes. No professional skill required. Discard the steady poster and make animated flipping pages of poetry. You can create a short clip with a few stances with photos per page. Introduce the audience with a fresh and new experience.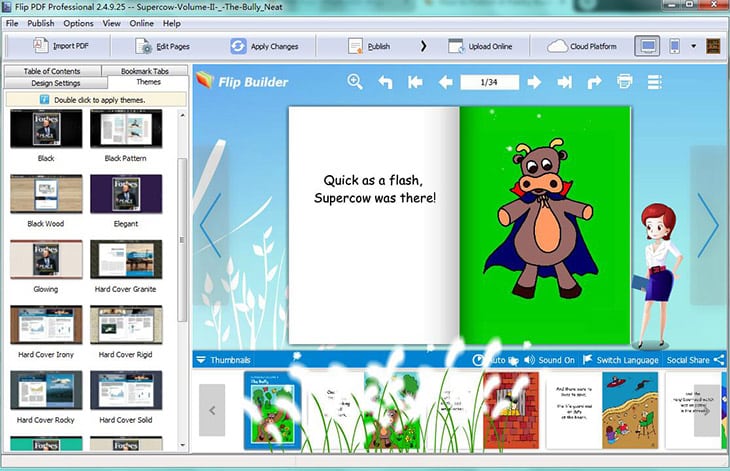 To be included in the actual scene, as if you belong inside the literature, make it interactive. Apply some prompts to make it more appealing. Multimedia elements create a whole feeling of emotions through sounds, audio and short movements.
4. Device Compatibility
Flip PDF is convenient as it supports almost all types of devices: Android, Apple and others – From smartphones, tablets and laptops. This will help you reach a wider audience.
5. Publishing
There are several ways how to publish your poetry book online:
Direct publishing to your FTP server
Email to family and friends
Create *.scr format if you want to use it as Screen Saver
WordPress plugin
Joomla & Drupal module
The good thing about it is that all can be done free of charge.
6. Labeling
Make it yours by adding your blog site, Facebook page, Instagram or Twitter in one small corner so people can follow and see your succeeding online poetries. Ensure that your account is not in Private mode. ?
7. Analytics
Link your flipbook to Google Analytics account. This tool will track the movement of your publication. It will give you a metrics summary report: traffic, page views, duration, and bounce rate. If you are not getting the feedback that you wanted, look back and improve your upcoming publications.