An author's job goes beyond penning down thoughts and coming up with masterpieces. Working on the visibility of their novels and boosting sales through multiple channels is mandatory to earn a solid reputation. With the rise of digitalisation in the publishing world, reaching out to the masses has turned out to be incredibly easy.
Learn about Flip PDF eBook Publishing Software
Best Desktop Digital Publishing Software for PDF Magazines/Brochures
A popular format which simplifies it all is Apple's iBooks Author. However, to make the most of its intuitive tools, one has to go through a 3-step procedure. If you are a beginner, read on to explore how to create an iBook and share it with your potential readers.
Step 1: Initial set-up
Prior to filling up your iBook with an interesting text, always decide on the cover as it's the first and foremost thing that's going to lure readers to your novel. Start with the following:
Download iBooks Author to your Mac computer
After launching the program, choose from the entire selection of preset templates
Fill up the cover page field by dragging a suitable image from your desktop
To let your readers identify your novel, include an appropriate title and don't forget to add your name to the title page. Once you are done with it, click 'next' to proceed.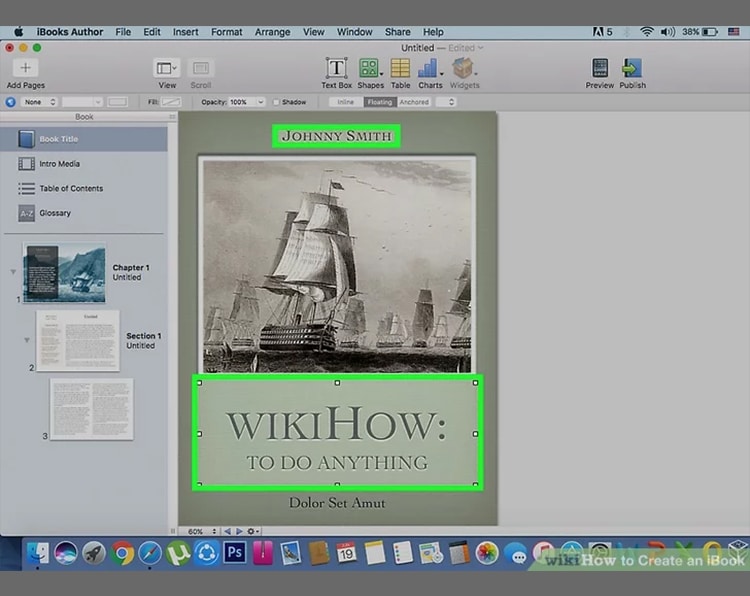 Step 2: Add to your iBook the creative content
Not the most thrilling part though, but definitely something you would love doing is adding to your digital publication a great text. Here's how you may proceed:
Move your cursor to 'Chapter 1' and then to the 'Add Pages' tab to insert your invaluable content. You shall be thrown open to three options of directly typing the text on the chosen template or drag and drop the final file to your iBook interface or even paste the text into the preset field.
For multi-section books, one is at complete liberty to add as many chapters as one desires, simply by clicking on 'Chapter 2'. As for insertion of text, follow the same procedure as above.
Moving over to the 'Widgets' button and selecting 'Gallery' would prompt you to enrich your iBook with captivating images, videos and other media. Inserting any of these would require you to drag and drop the file to wherever you wish it to appear on the template.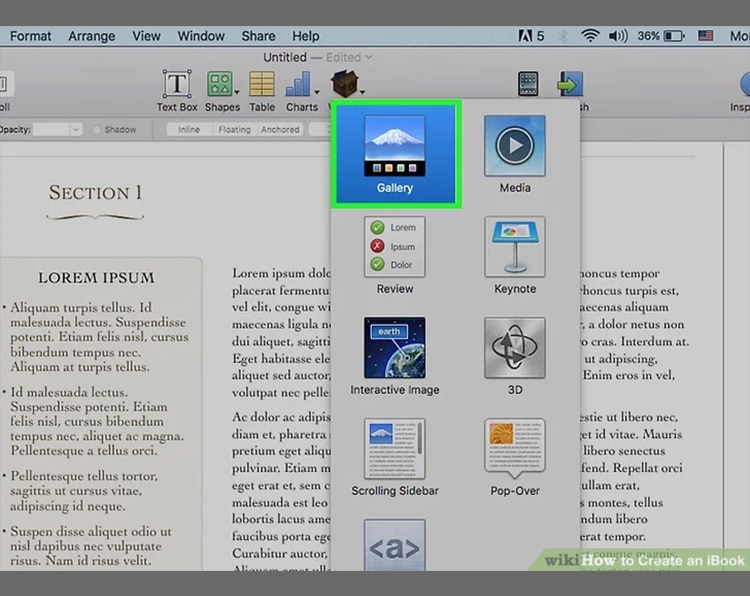 Step 3: Preview your iBook first and publish thereafter
Finally, it's time you enjoy the fruits of your labour! Prior to that, you could check how your iBook would appear when it's published. The 'Preview' tab here, placed right at the top of the screen, simplifies the process.
However, since this is not the end, read on to explore the equally effortless way of publishing.
If your iBook is meant for sharing with a limited crowd then select 'file' and from the drop-down menu, click on 'export' to save the file into any of the formats- PDF or ePub. The recommended format here would be the latter since it's readable on both Apple and non-Apple devices.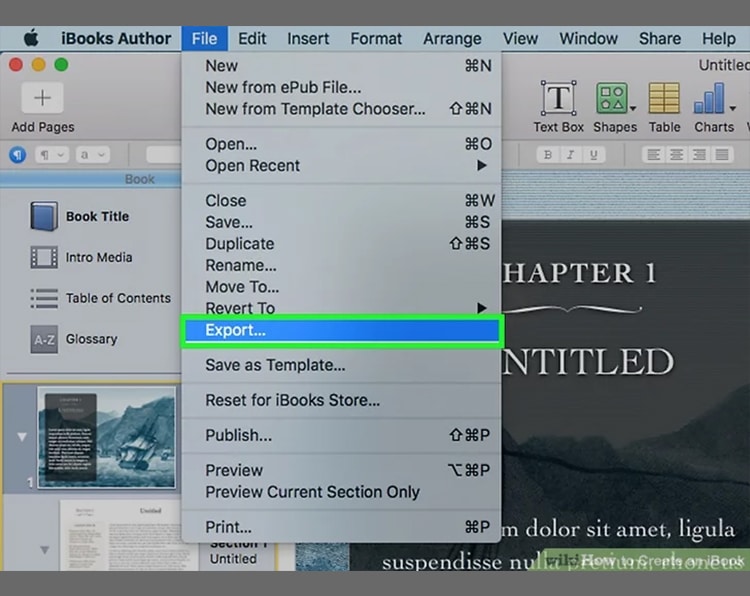 Those willing to share it online can either upload it to their personal website or cloud and even email it as an attachment to a recipient.
However, if your motto is to make a fast buck then hit the 'Publish' icon situated just beside the 'Preview' button to upload your text on iBook stores.
Choose the ePub format if it's for a personal site, otherwise go for iBooks version to publish it to official Apple venues.
Self-publishing has never been this easy! However, if you are looking out for a reputable alternative then Flip PDF can be a solid way out. By optimising the HTML5 technique, it lets authors create a realistic
page-flipping eBooks
easily. Designed to improve the book reading experience of iPad owners, this is just another medium to empower them.
Conclusion
The possibilities, as you can decipher from the discussion, seem endless. With Apple's iBooks Author at your fingertips, the scope of sharing your interactive iBook to book lovers appear not just a reality but also a dream come true for authors, all around the world. So when the power is in your hands, why rely on publishing houses to fulfil your desires when you are at complete liberty to reach out to a vast audience all by yourself!
Best Desktop Digital Publishing Software for PDF Magazines/Brochures