In today's digital age, businesses need to adapt to the changing times to stay relevant and competitive. One way to do this is by creating a digital catalog that allows customers to order directly from the catalog. This not only saves time but also increases sales. In this article, we will discuss how to create a digital catalog using Flip PDF Plus Pro step by step. Before diving into the tutorial, let's see why we choose Flip PDF Plus Pro to help you make your own catalog.
Flip PDF Plus Pro is a powerful catalog maker software developed by FlipBuilder. It offers a range of features to help you create professional-looking catalogs. It's a great option for anyone looking to create interactive digital publications that engage and inform their audience.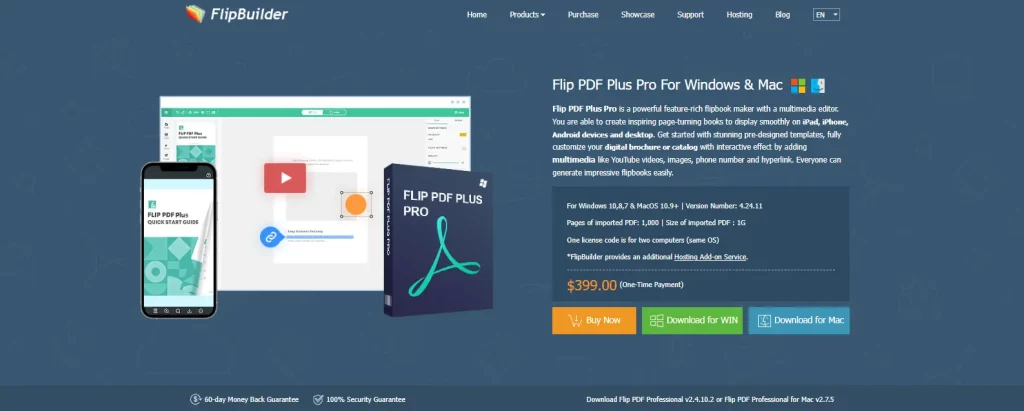 Here are some of its key features:
Swift Conversion: Flip PDF Plus Pro allows you to quickly and easily convert your PDFs and images into flippable catalogs in seconds. And they can be viewed on any device.
Multimedia Editor: With its multimedia editor, you are free to add a range of interactive elements to your catalog, including videos, audio, and links, making it more engaging and informative for your audience. It's a great way to boost sales.
Online Sharing: Flip PDF Plus Pro makes it easy to share your catalogs online. You can share them with their URLs and QR codes on social media and chat groups. Or you can embed them on your website or blog.
With a wide range of powerful features, Flip PDF Plus Pro is a great option for you to easily create interactive digital publications. What's more, it helps create digital catalogs for free. Next, let's see how to make your own catalog with Flip PDF Plus Pro.
How to Create a Digital Catalog?
6 simple steps to quickly make your own catalogs.
Download Flip PDF Plus Pro

Please visit FlipBuilder's website to download Flip PDF Plus Pro. After downloading the software, you can easily install it on your computer by following the installation wizard.

Convert your PDF catalog

Launch Flip PDF Plus Pro. Click to import a ready PDF catalog, or drag and drop the catalog to start conversion.

Customize your catalog

A wide range of templates, themes, and scenes are ready for you to customize your own catalog. And you can upload your logo to make the catalog more professional.

Initiate its multimedia editor

Click to initiate its multimedia editor on the top toolbar of the program. You can add various multimedia elements to the catalog, making it informative and engaging.

Add clickable links

Click on the link button on the left sidebar. Choose trigger actions, including opening a link in a new window, or popping up a window, which links it to your order page.

Publish your catalog

After adding the button, linking it to your order page, and previewing the catalog to make sure everything is working correctly, publish the catalog online and share it with your customers.
By using the multimedia editor in Flip PDF Plus Pro, you can not only create interactive digital catalogs that can comprehensively showcase your products and services in a more engaging way, but you can also allow customers to order directly from the pages. It's very useful to increase sales and improve customer experience.
Conclusion
With Flip PDF Plus Pro, creating a digital catalog has never been easier. By following the simple steps outlined above, you can create a professional-looking catalog that is sure to increase sales and attract new customers. The best part? You can create a digital catalog for free using this software, making it an affordable and accessible option for businesses of all sizes. Don't wait any longer to take your business to the next level – start creating your digital catalog today with Flip PDF Plus Pro.