This article will explore eight inspiring booklet examples that effortlessly blend ingenuity with imagination, demonstrating how they can inspire designers, artists, and enthusiasts alike. Each booklet example showcases unique and innovative design approaches that captivate your senses and ignite your creativity. So, let's embark on this creative journey and discover how these stunning booklet examples can unlock new realms of imagination for you. Whether you are a seasoned designer seeking fresh ideas or someone newly intrigued by the possibilities, these eye-catching booklet examples will leave a lasting impression.
This stunning example effortlessly blends style and sophistication, serving as a mesmerizing showcase for exquisite jewelry pieces. As you delve into its pages, you'll be captivated by the seamless fusion of elegant design elements and captivating photography, creating a truly immersive experience. The sleek layout and lavish color palette enhance the allure of each piece, allowing the jewelry to take center stage.
This meticulously designed booklet offers a sophisticated and visually captivating platform to showcase your professional accomplishments and skills. With its sleek design and modern layout, this booklet effortlessly guides recruiters and hiring managers through the various facets of your professional journey. The clean and organized pages offer ample space for detailing your education, work experience, skills, and achievements, allowing you to create a powerful narrative highlighting your strengths
This visually stunning booklet is a dynamic and comprehensive showcase for your artwork, photography, design projects, or other creative endeavors. With its sleek and modern design, this booklet provides an eye-catching platform to display your portfolio cohesively and professionally. The carefully crafted layout allows your work to take center stage, while the elegant typography and thoughtful color palette add a touch of sophistication to your presentation.
With a seamless blend of captivating photography, elegant typography, and thoughtful layouts, this booklet showcases many inspiring and aspirational ensembles. From luxurious evening gowns to casual streetwear, this fashion lookbook booklet encapsulates the diversity and creativity of the fashion industry.
With its unique square shape, this booklet stands out, instantly intriguing and captivating readers. The thoughtfully designed layout offers ample space to showcase your content, whether it's a collection of stunning photographs, a curated compilation of inspiring artwork, or a captivating storytelling endeavor. The clean and minimalist design allows your content to shine, while the precisely placed typography and carefully chosen color palette add a touch of sophistication.
This captivating booklet is perfect for showcasing your properties with style and flair. Its sleek and contemporary design allows you to present your listings in an engaging and visually appealing manner. From stunning cover photos to detailed property descriptions, this template offers a comprehensive platform to highlight the unique features and selling points of each listing.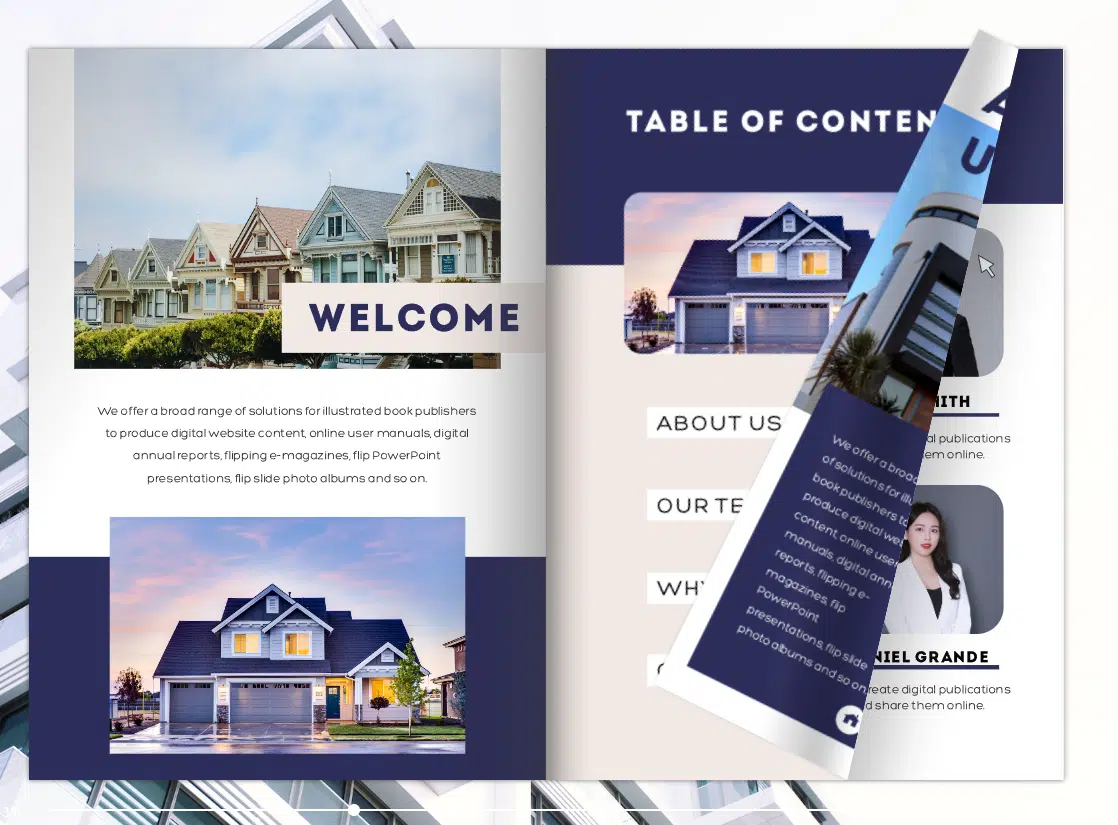 Designed to unveil captivating success stories and in-depth analysis, this booklet offers a compelling platform to present your case studies with insight and impact. The clean and modern layout allows for clear and concise communication of complex information, making it an ideal choice for businesses, researchers, or individuals looking to showcase their expertise. From striking visuals to comprehensive data representation, this booklet template blends aesthetics with informative content.
This remarkable booklet is a captivating showcase for creatives of all disciplines, allowing them to exhibit their work with flair and finesse. This booklet's sleek and modern design enhances your portfolio's impact, whether you're a photographer, artist, designer, or illustrator. From the carefully curated layouts to the stunning visuals, every page showcases your creative vision in a way that captivates and inspires. The elegant typography and thoughtfully chosen color palette add a touch of sophistication, elevating your portfolio to new heights.
With Flip PDF Plus Pro, you can effortlessly transform your static content into dynamic, interactive flipbooks that engage and captivate your audience. The user-friendly interface allows you to design and customize your booklets easily, while the powerful features offer a range of possibilities. Flip PDF Plus Pro empowers you to create immersive and interactive booklets, from adding multimedia elements like videos and audio to embedding links and buttons.
Multimedia Integration: Enhance your booklet with immersive multimedia elements such as videos, audio files, and animations to engage and captivate your audience.
Opciones de personalización: Customize every aspect of your flipbook, including colors, backgrounds, fonts, and layouts, to reflect your brand identity or personal style.
Rich Interactive Content: Embed links, buttons, and interactive elements within your booklet to enable readers to explore additional resources or navigate to specific sections.
Device Compatibility: Create flipbooks that are responsive and compatible with various devices, ensuring a seamless reading experience across desktops, tablets, and smartphones.
Conclusión
These booklets ignite the imagination and serve as a wellspring of inspiration for designers, artists, and enthusiasts alike. They showcase innovative layouts, stunning visuals, and thoughtful design elements that have the potential to unlock new realms of creativity. As you delve into these inspiring examples, let them fuel your creative ideas and aspirations, pushing the boundaries of what can be achieved through the powerful medium of booklets. So, let these inspiring booklets serve as your guide as you embark on a creative journey filled with endless possibilities and limitless imagination.