In the fast-paced world of event promotion, where capturing your audience's attention is a perpetual challenge, the power of a well-designed digital flyer cannot be overstated. Whether you're organizing a local charity fundraiser, a corporate conference, or a community festival, the visual appeal and effectiveness of your promotional materials can make or break the success of your event. To help you stand out in the digital landscape and inspire your next design, we've curated a collection of eight exceptional digital flyer examples. In this article, we'll explore how these flyers masterfully combine creativity, clarity, and compelling content to captivate potential attendees and drive event success. So, if you're searching for fresh ideas and design inspiration for your next event promotion, you're in the right place!
This flyer offers a perfect solution for supermarkets, grocery stores, or any retail business looking to showcase their special offers, discounts, and product promotions in a captivating way. With its eye-catching design, vibrant colors, and easily customizable layout, this flyer is a powerful tool for grabbing the attention of potential customers. You can seamlessly replace the sample content with your own, adding product images, pricing details, and unique branding elements to create a tailored and enticing promotion flyer that will leave a lasting impact on your audience.
This flyer is an ideal choice for real estate agents, brokers, or property developers looking to showcase their listings in a captivating and professional manner. With its sleek and modern design, customizable layout, and user-friendly interface, this flyer empowers you to create compelling property advertisements. By replacing the template's placeholder content with your property images, descriptions, and contact information, you can craft a unique and attention-grabbing flyer that highlights the features and benefits of each listing.
This professionally designed flyer is a must-have for digital marketers and businesses aiming to showcase their services, products, or events with flair and precision. Boasting a sleek and modern layout, this flyer is perfect for highlighting key messages, presenting enticing visuals, and driving engagement. Whether you're promoting a new product, a special event, or your digital marketing services, this template provides a versatile canvas to communicate your message effectively.
As the holiday season approaches, this flyer is your ticket to crafting an eye-catching and heartwarming Christmas flyer that spreads joy and encourages celebration. With its cheerful color palette, delightful illustrations, and user-friendly customization options, you can effortlessly personalize this flyer to suit your event or special offers. Perfect for businesses, organizations, or individuals looking to add a touch of holiday spirit to their marketing materials, this template exudes the warmth and merriment of Christmas, ensuring your message resonates with your audience.
Crafted with precision and creativity, this flyer is an ideal choice for digital studios, design agencies, and creative professionals seeking to showcase their services, portfolios, or special events. Its contemporary and sleek aesthetics are ideally suited to captivate the attention of potential clients and partners. With easy-to-edit features, you can effortlessly customize the template to align with your branding and content.
Ideal for digital agencies, creative studios, and tech firms, this flyer offers a sophisticated and professional platform to showcase your services, projects, or events. With its clean design and eye-catching graphics, it effectively captures the essence of innovation and creativity, making it an excellent choice for tech-savvy businesses. The template is fully customizable, allowing you to adapt it to your brand's style and content.
This flyer is tailor-made for digital creatives, design agencies, and technology-driven businesses looking to promote their services, products, or events with flair and style. Its sleek and modern design, combined with dynamic visuals, offers an ideal canvas for conveying innovation and creativity.
With its cutting-edge design and striking visuals, this flyer captures the essence of innovation and creativity, making it an ideal choice for showcasing your services, products, or events.
Suppose you're a photographer, studio owner, or in the business of visual storytelling. In that case, this flyer is your gateway to capturing the attention of potential clients and promoting your photography services or events. With its captivating design and high-quality visuals, it beautifully encapsulates the art and essence of photography. Whether you're advertising portrait sessions, photography workshops, or simply looking to boost your photography business, this flyer offers a versatile canvas to convey your message effectively.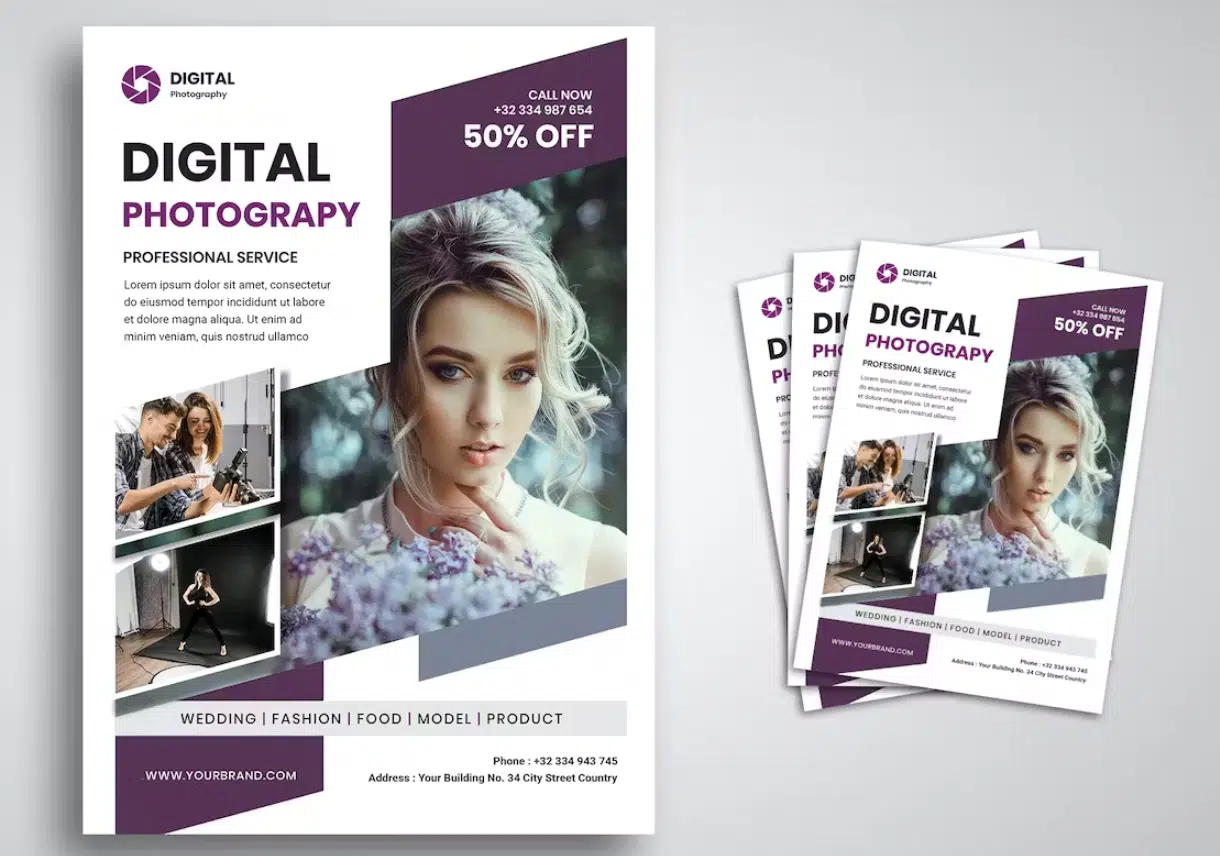 With Flip PDF Plus Pro, you can transform static, traditional flyers into dynamic, engaging digital publications. This intuitive software lets you add interactive elements, such as page-flipping effects, multimedia content, and hyperlinks, turning your promotional materials into immersive experiences that leave a lasting impression.
Diseño compatible con dispositivos móviles: Ensure your digital flyer looks great and functions seamlessly on various devices, including smartphones and tablets.
Hyperlinks and Hotspots: Create interactive links and hotspots within your flyer, allowing readers to navigate to specific pages or external websites.
Análisis y Seguimiento: Gain insights into user behavior with built-in analytics, allowing you to understand how readers interact with your digital flyer.
Real-time Updates: Make last-minute changes or updates to your digital flyer and instantly publish them without reprints.
Compartiendo socialmente: Facilitate easy sharing of your flyer on social media platforms, expanding your event's reach and engagement.
To Sump Up
The digital flyer has become an indispensable tool for event organizers seeking to captivate and engage their target audience. We've explored eight remarkable digital flyer examples that showcase the power of creativity, clarity, and compelling content. These examples have not only inspired us with their design excellence but also demonstrated the limitless potential of digital flyers to convey information, foster excitement, and drive participation. Whether you're planning a charity fundraiser, a corporate seminar, or a community gathering, these exemplars serve as a testament to the impact of innovative design in event promotion.