Welcome to the world of Airbnb hosting, where creating memorable guest experiences is not just a goal but an art form. Crafting the perfect welcome book is one of the critical elements to ensure your guests feel at home from the moment they step through your door. In this article, we will explore eight Airbnb welcome book examples that showcase the creativity and thoughtfulness of hosts who go the extra mile to leave a lasting impression on their guests. Whether you're a seasoned host looking for fresh inspiration or just beginning your hosting journey, these examples will provide you with valuable insights on how to create a truly unforgettable stay for your guests. Join us as we delve into the world of personalized, informative, and engaging welcome books that will elevate your hosting game to new heights.
It is a stellar choice for anyone needing a striking, well-crafted brochure. Its design exudes sophistication, with a clean, modern aesthetic that instantly grabs attention. The color palette is versatile, allowing easy customization to match your brand or style. The layout is thoughtfully organized, balancing text and visuals to ensure a seamless flow of information.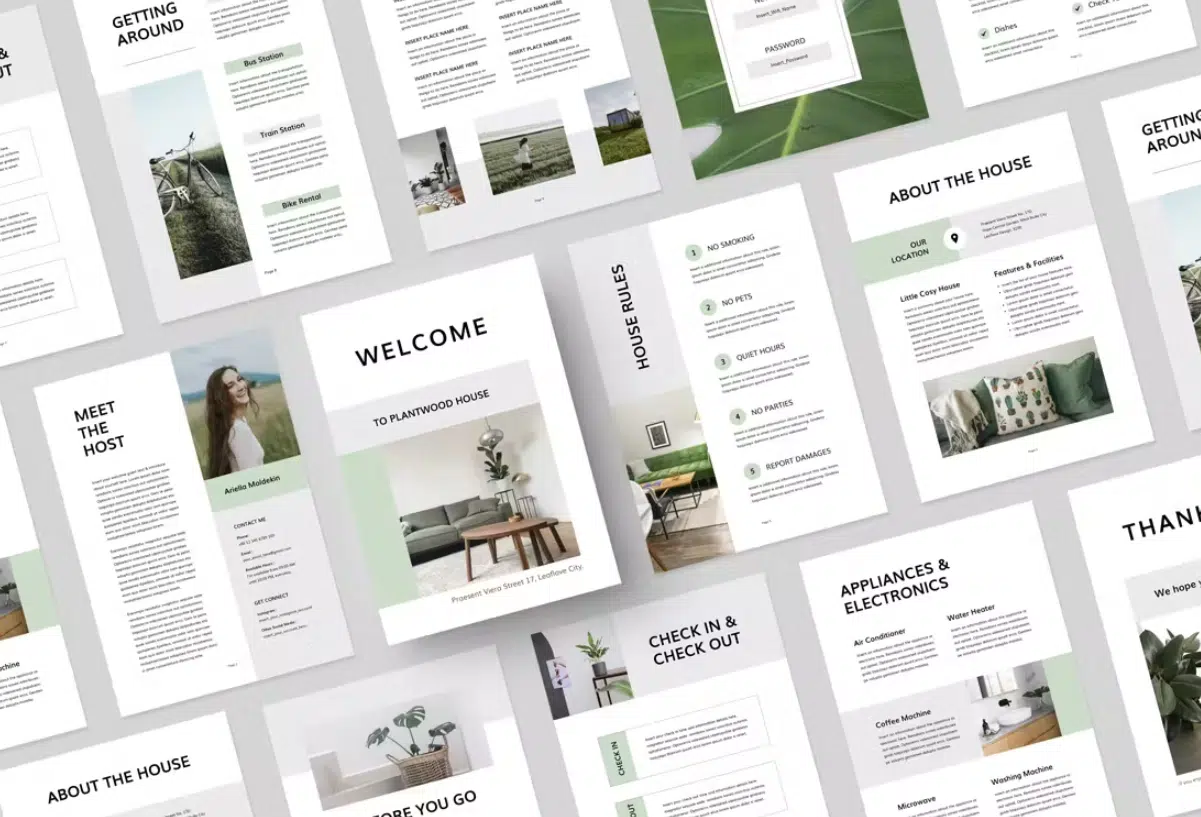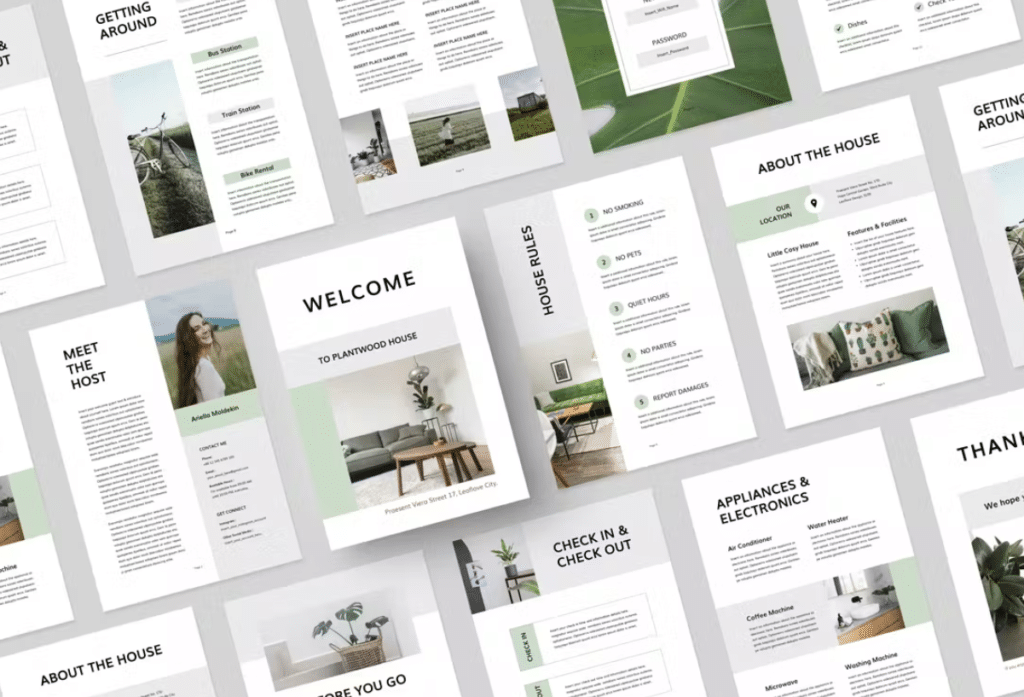 Its design radiates elegance and sophistication, immediately setting the tone for a memorable guest experience. The color schemes are inviting and customizable to match your unique style or property theme. The layout is meticulously organized, offering a seamless and informative journey for your guests.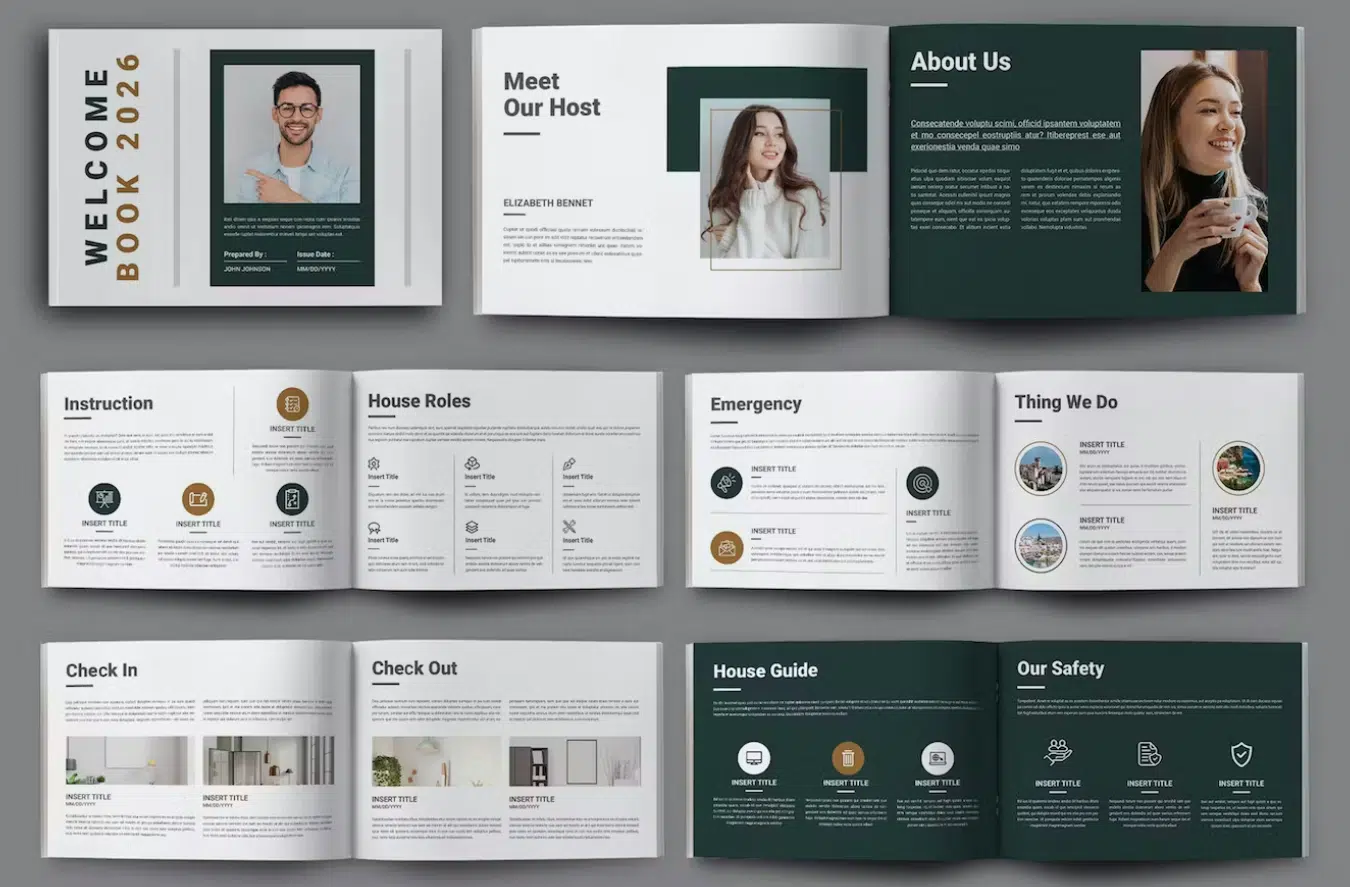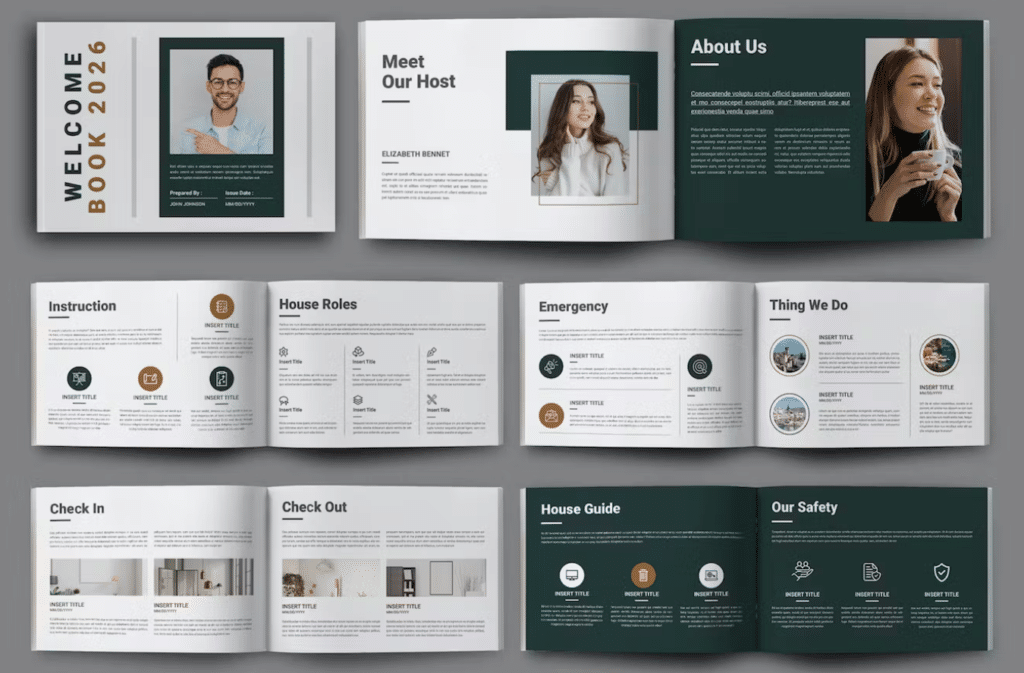 The Welcome Book example is an inspiring masterpiece designed to captivate and guide readers. Its design is a visual delight, a harmonious blend of aesthetics and functionality that ensures an engaging experience. The color palette is carefully selected, offering a warm and inviting ambiance that welcomes your guests with open arms. This template invites you to create a welcome book that leaves a lasting impression, showcasing your property and its offerings in the best light possible.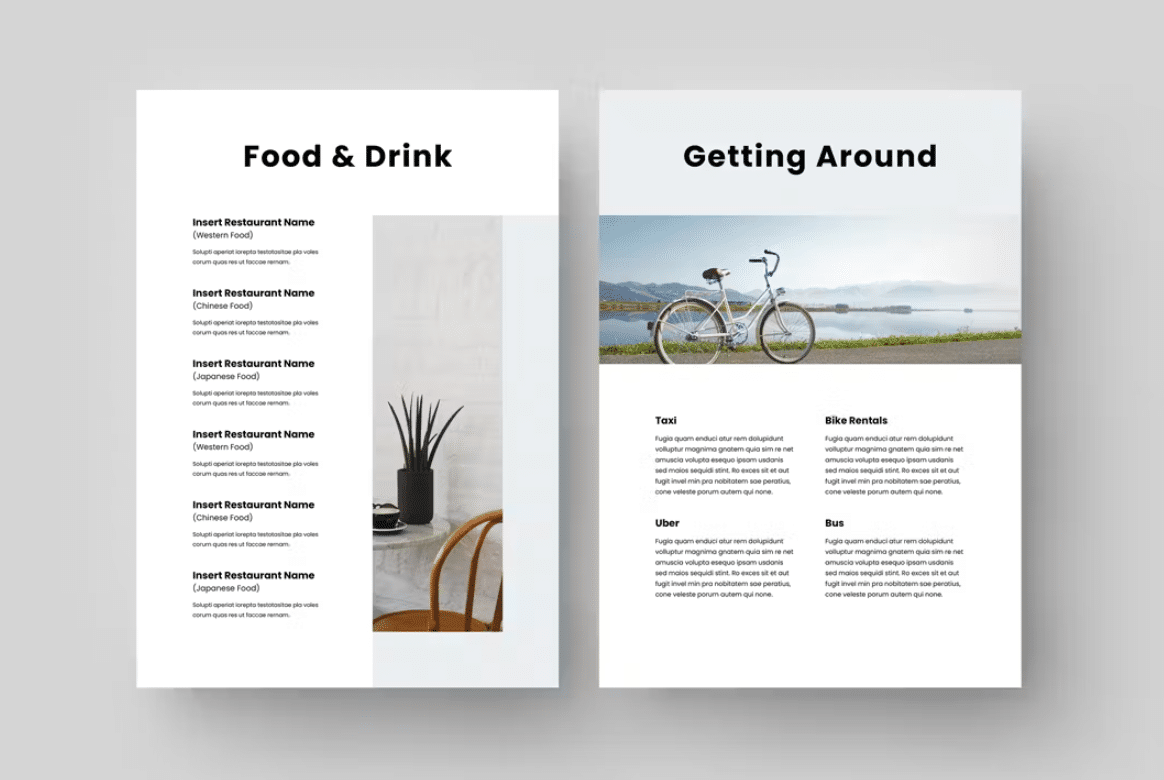 This Welcome Book showcases a design that seamlessly blends elegance and practicality. The color schemes are versatile and easily customized to align with your brand or property theme, ensuring a cohesive and appealing look. Its design embodies elegance, setting the perfect ambiance for an exceptional guest experience.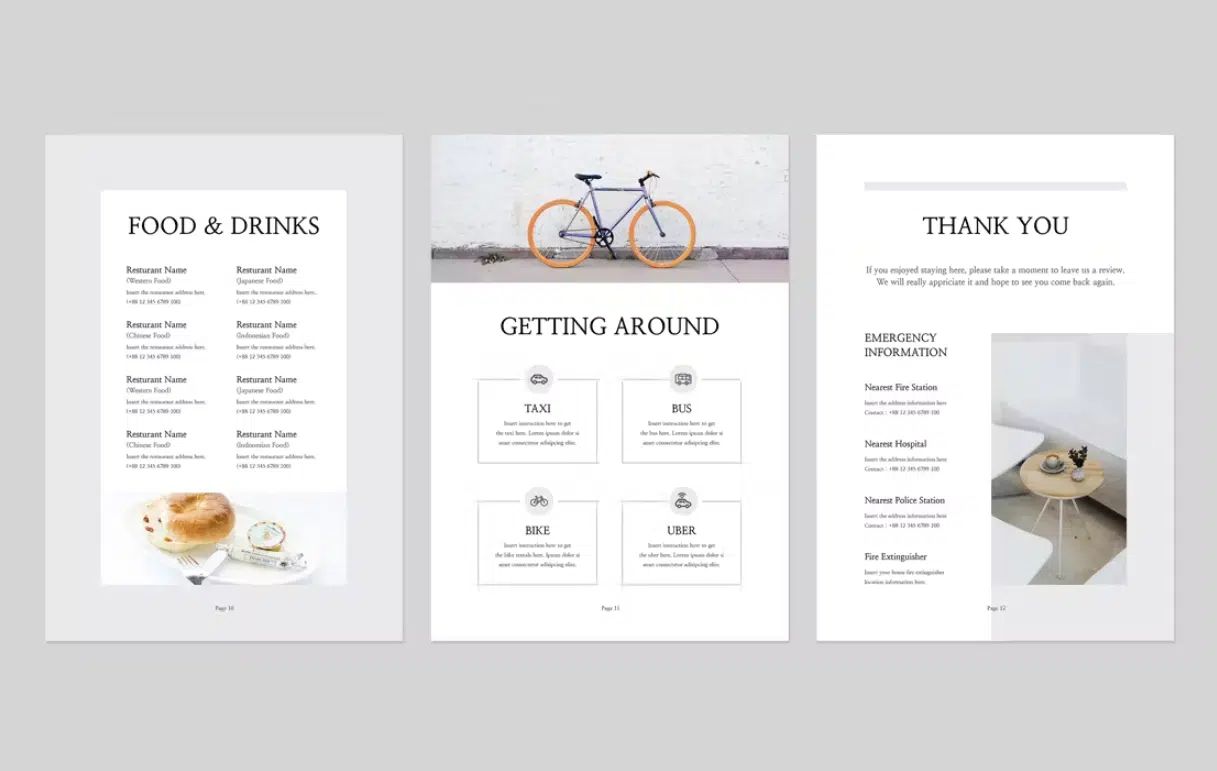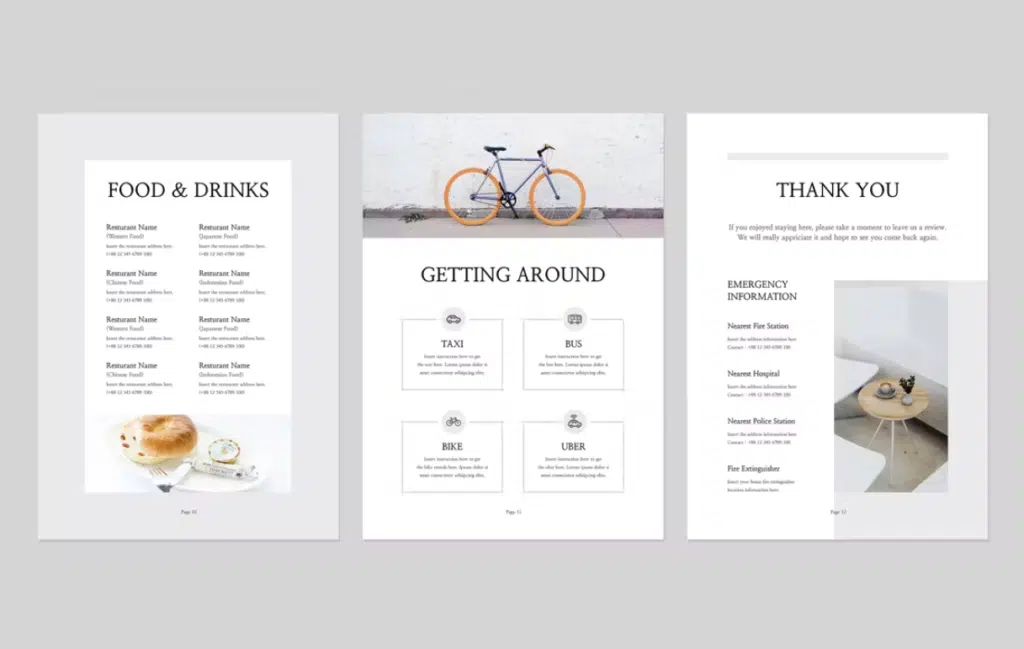 Its design strikes the perfect balance between elegance and practicality, setting the stage for a memorable guest experience. The color palette is inviting and versatile, making it easy to tailor the template to your property's unique style. The layout is meticulously structured, ensuring a seamless flow of essential information about your property and the local area.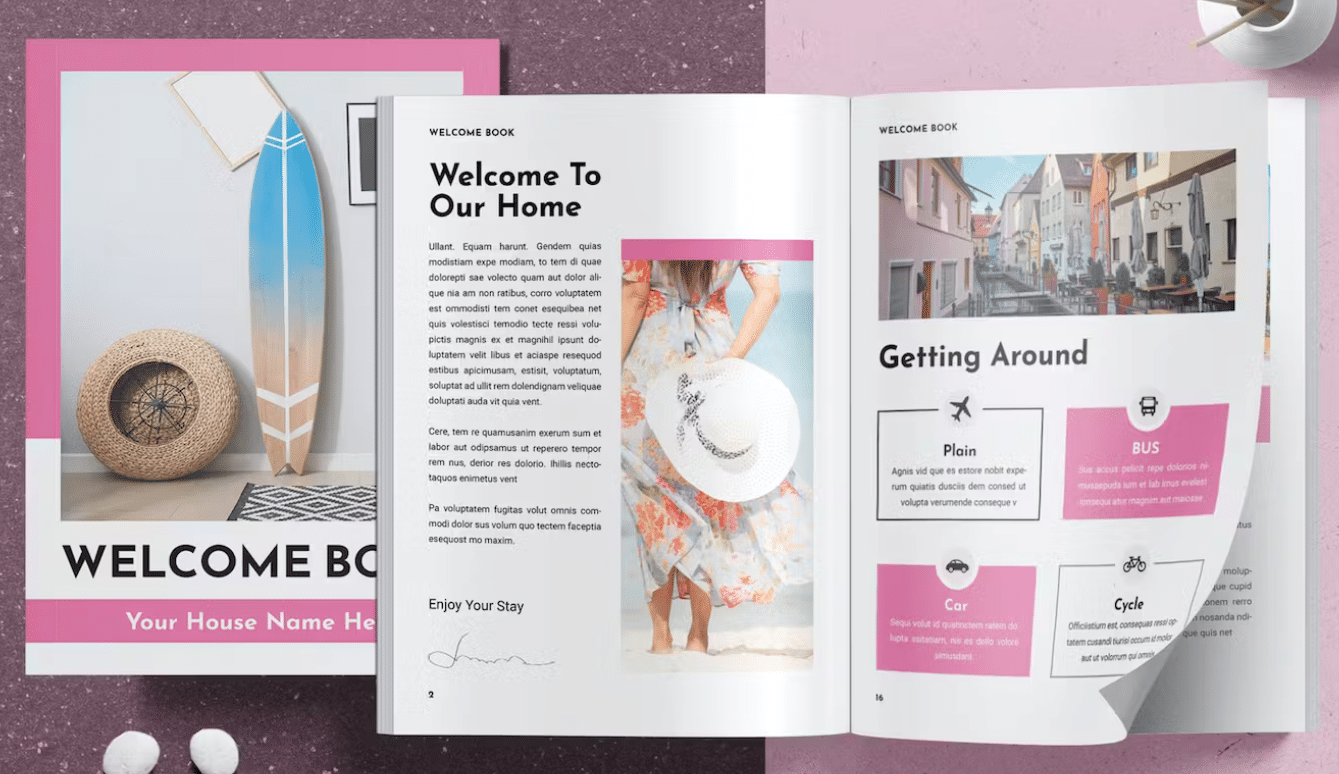 Nestled within the serene embrace of nature, this beautifully crafted welcome book template is an invitation to create memorable moments for your Airbnb guests. With its rustic charm and thoughtfully designed sections, this template offers a warm and informative welcome that enhances their stay. Crafted with care, it exudes a sense of comfort, making your guests feel right at home when they arrive.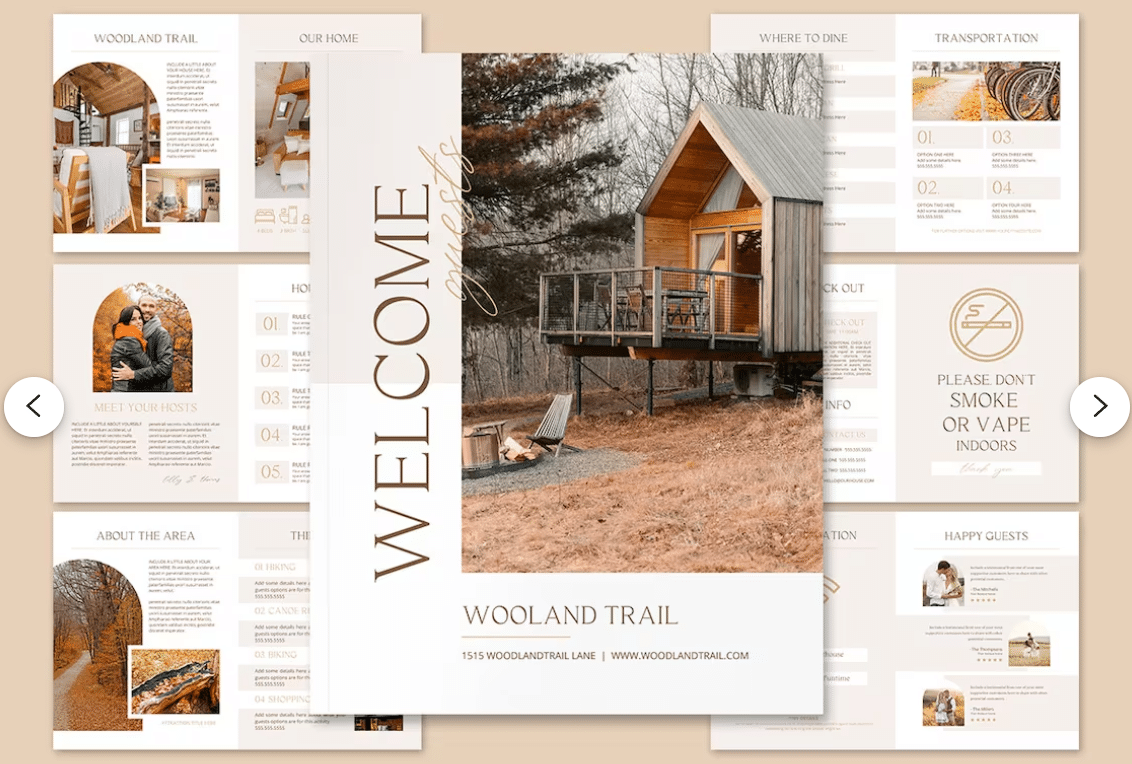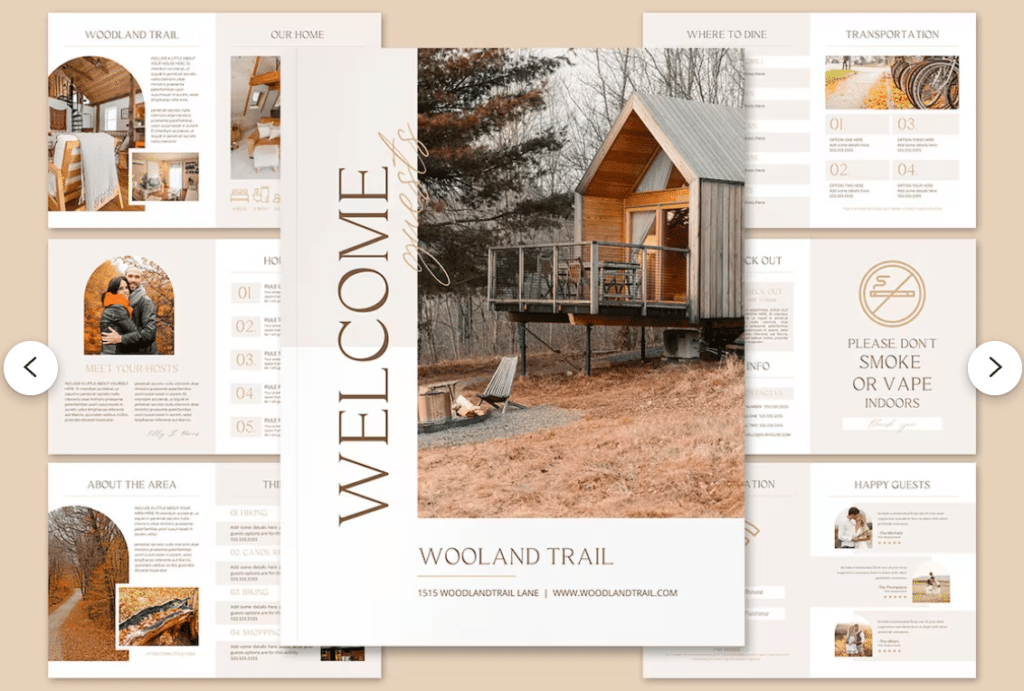 With its user-friendly design and customizable sections, it's your canvas to paint the perfect picture of your hospitality. You have the freedom to infuse your unique style and local expertise into every page. Tailor your welcome book with local tips, house rules, and personal touches to showcase your individual style and create a warm, inviting atmosphere for your guests.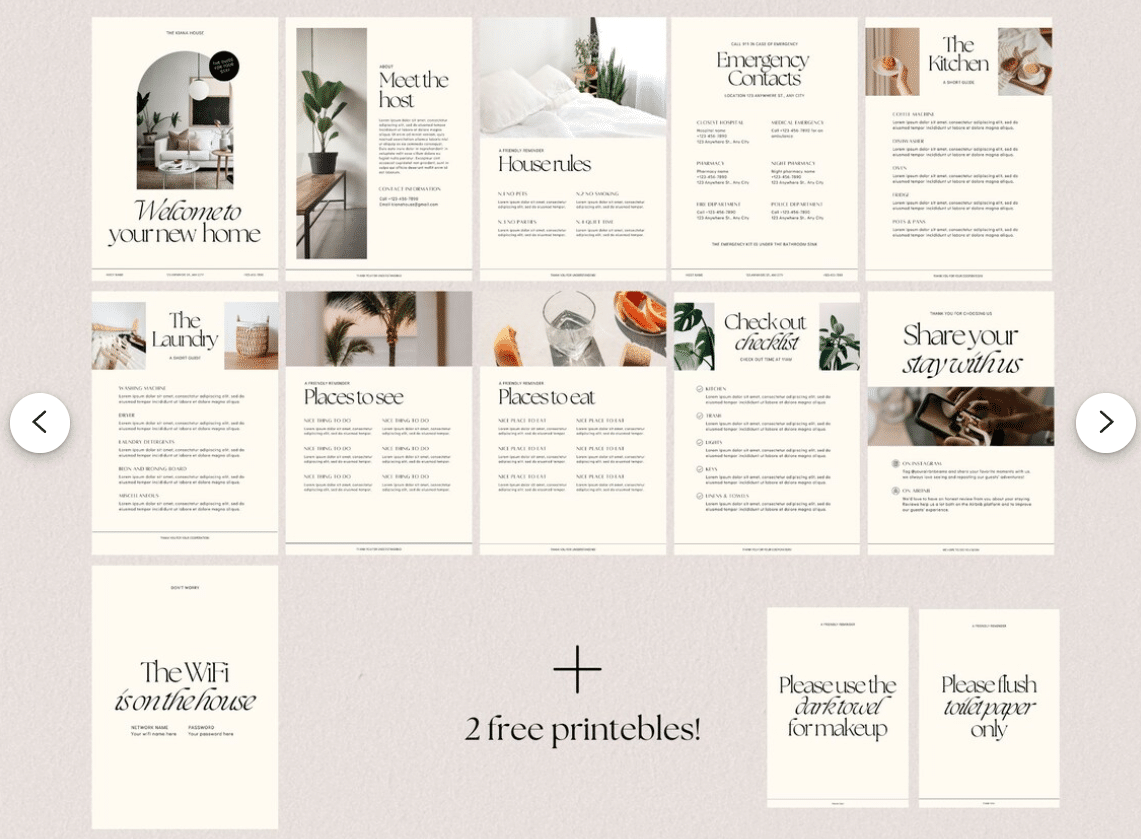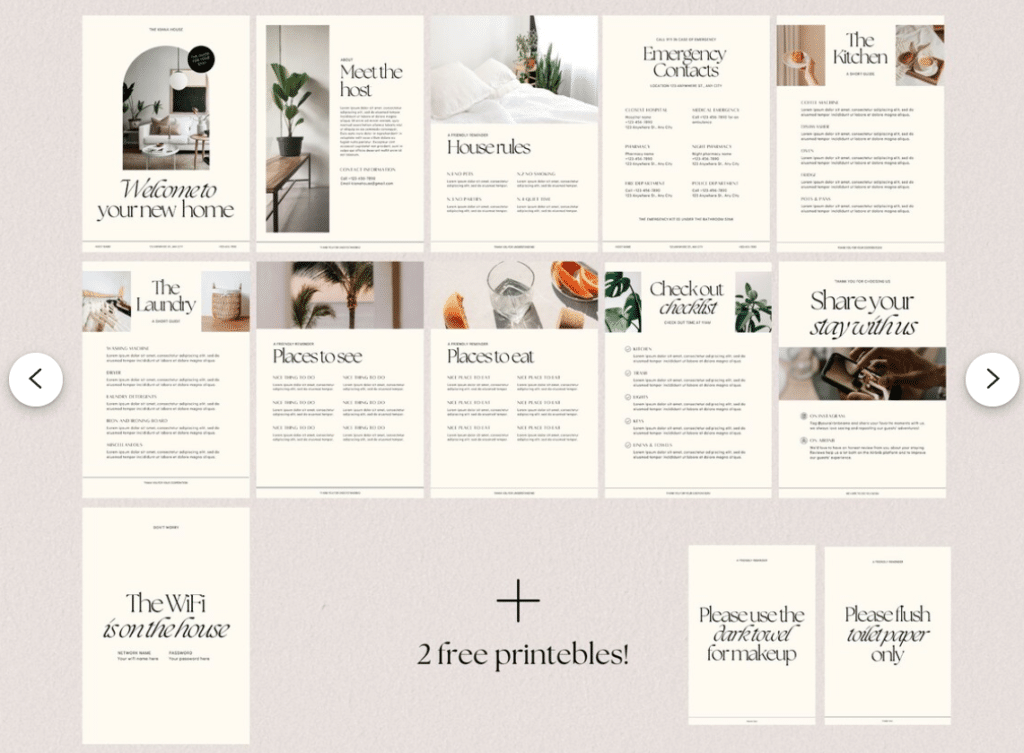 It was designed to elevate guests' experience and set the stage for an unforgettable vacation. With its elegant design and user-friendly layout, it provides you with the perfect canvas to showcase all the essential information your guests need while immersing them in the excitement of their upcoming adventure. Its beautifully designed pages and user-friendly format allow you to share not only crucial information but also the spirit of the destination.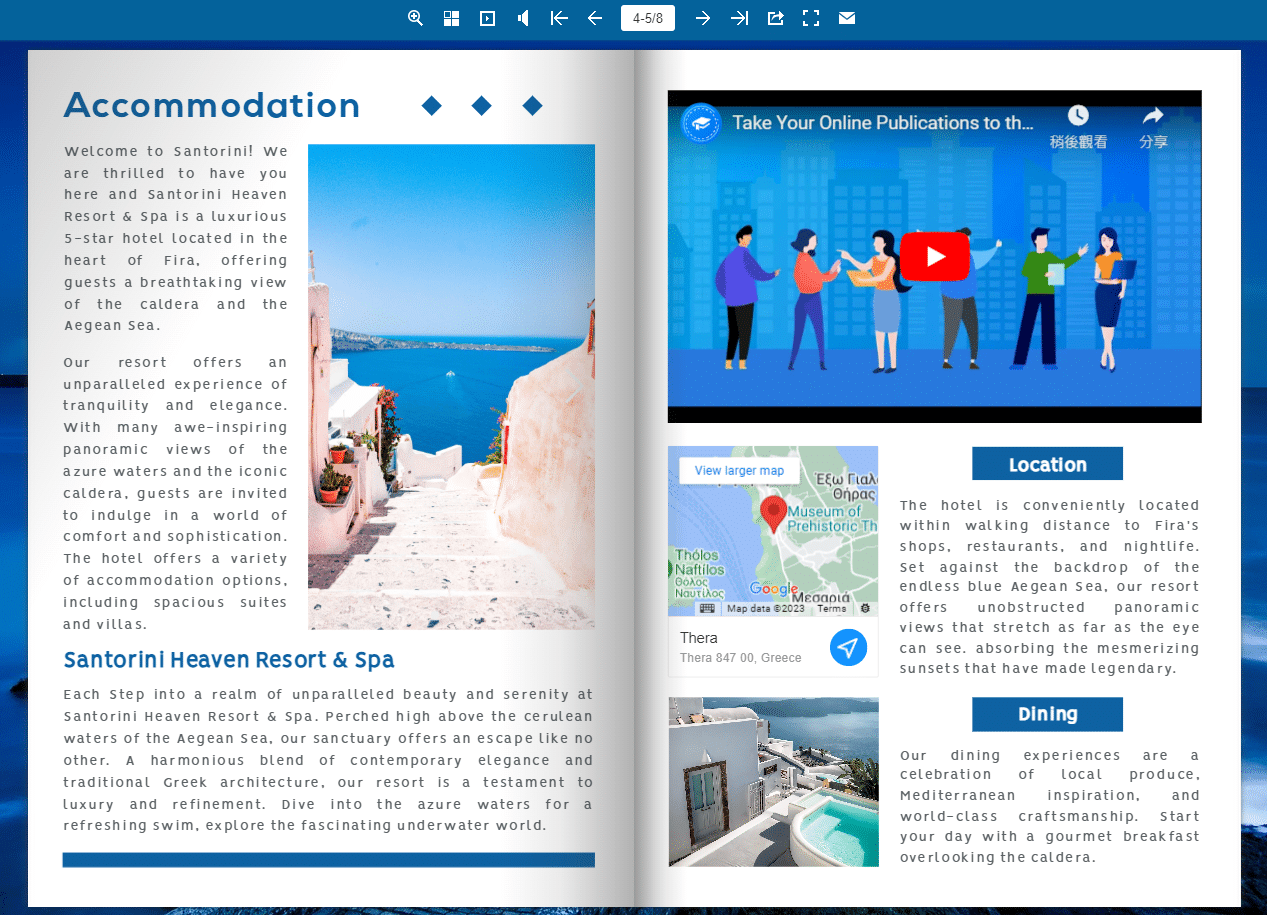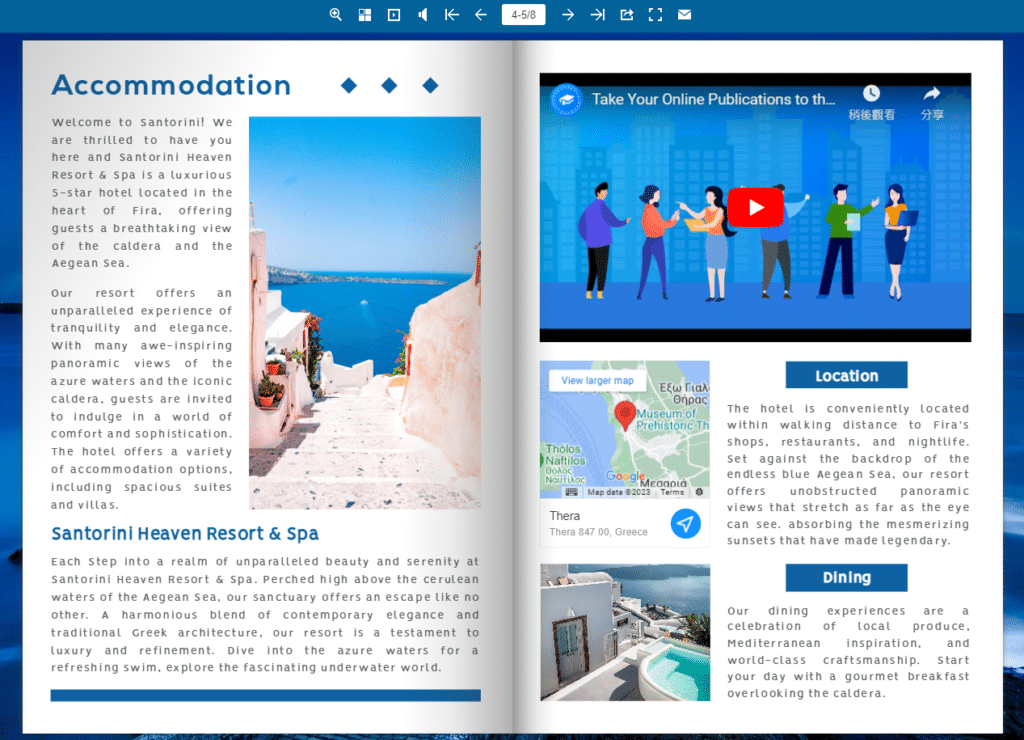 Flip PDF Plus Pro is the ultimate solution for hosts and property owners seeking to create captivating and engaging welcome books for their guests. With its user-friendly interface and an array of powerful features, Flip PDF Plus Pro empowers you to transform your welcome book into a dynamic digital experience.
Brand Customization: Personalize your welcome book with your branding, including logos, colors, and fonts, to maintain a consistent and professional image.
Plantillas personalizables: Choose from a wide range of professionally designed templates, making it easy to create a visually appealing and personalized welcome book.
Real-time Updates: Easily update your welcome book with the latest information, ensuring your guests always have access to the most current details.
Cross-platform Compatibility: Your welcome book can be viewed on various devices, from desktops and laptops to tablets and smartphones, ensuring accessibility for all guests.
Conclusión
In the ever-evolving world of hospitality, creating memorable guest experiences has taken a significant leap forward with the introduction of Flip PDF Plus Pro as the ultimate welcome book creator. By delving into the digital realm, hosts and property owners can now craft welcome books that not only inform but also captivate and immerse their guests in the unique charm of their properties and the local surroundings. With its interactive flipbooks, multimedia integration, and user-friendly customization options, Flip PDF Plus Pro has opened up a world of possibilities for hosts to leave a lasting impression on their guests. Say farewell to the days of static, printed welcome books, and embrace a dynamic and personalized approach to guest hospitality. Welcome to a new era in hospitality, where Flip PDF Plus Pro is your guide to crafting unforgettable guest experiences.