Have you ever thought about creating your own digital book and publishing it online? If your budget is holding you back, thinking that this sounds expensive, then Flip PDF is your best option.

What Is Flip PDF

Flip PDF is a digital publishing software that enables users to create realistic publications. These include E-Magazines, E-Books, E-Catalogs, E-Reports, E-Newsletters, and E-Brochures. It also allows users to directly PDF, images, and SWF to a digital version. The links and table of contents are directly imported to your publication, which you can edit, add on, or delete prior to publication. The output you get is a stunning 3D flipping digital book.
Best Desktop Digital Publishing Software for Magazines/Brochures
Features of A Digital Book
You'll be surprised at the variety of things you can do with Flip PDF. Packed with awesome features, readers of your digital book will surely be amazed.
● Thumbnail
● Custom output appearance
● Customized book title
● Search option within the book
● Add homepage URL
● Easy sharing with zip or links
● Bookmark
● Publish for both online and offline access
● Burn to CD
● Publish on the web, Mac, or mobile phones
● Auto-play support
● Downloadable and printable
● Google analytics integration
● DIY templates for the creative
Steps in Creating A Digital Book with Flip PDF
Excited to create your own digital book? Follow these quick simple steps to get started.
1. Import PDF document from your computer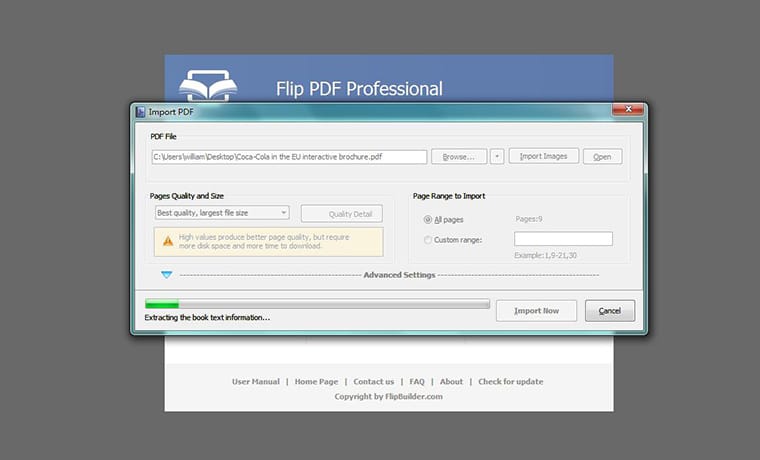 If you already have a PDF version, you can simply upload it for editing/updating. Click File then select Upload PDF. You will be asked to choose the view version between HTML5 and Flash.
You will be prompted to choose a template under My Templates or Online Templates. There are lots of free attractive and professional templates you can choose from. The template you choose serves as your background image. You will then be asked to upload your file and afterwards, you can proceed with editing your digital book.
2. Edit your content in Page Editor
You can then start working on your digital book by clicking the Edit Pages icon on the menu bar. Check out each feature that you see on the menu bar and tweak according to your liking. Add a link, a movie, audio, image, and text. You can also create a slider, embed a video from YouTube or Vimeo with auto-play settings. Your imagination is your limit. The software is very user-friendly that even a grade schooler can look around and get the hang of it easily.
3. Apply Changes

Don't forget to click Save and Exit then Apply Changes each time you update your project. The changes will then show on your digital E-Book
4. Publish your E-Book
You have various output options including .html, .exe, .app, and .fbr. You can also publish your project as a plugin in WordPress, Joomla, or Drupal.
Under the Publish tab, you also have the Upload Online, FTP Server, Email to, and Screensaver options, which are all self-explanatory.
5. FlipBuilder Cloud Platform

You can take advantage of the FlipBuilder Cloud Platform to publish your digital book. You can pay $9.99 monthly or $99 yearly to publish without the watermark. The number of digital books you can publish can be up to 1,000. Check the FAQs for further details.
Best Desktop Digital Publishing Software for PDF Flipbook