Text animations are a fantastic tool for grabbing people's attention and breathing new life into your work. The production of attractive textual animations, however, is a complex process. Various tools and applications may assist you in creating animated text videos; nevertheless, only a select handful will make it simple for you to generate both basic designs and complex professional text videos.
One such program is known as the Mango Text Video Maker. It is easy to use for people of many interests and ability levels to create typographic animations with ease. Let's explore what it does and how it works.
Mango Text Video Maker is used to easily make animated text-based gifs and videos. It provides users with a library of templates and a collection of media assets ready for commercial use. You may create movies catering to a wide range of demographics, including those interested in education, marketing, and other fields.
Its purpose is to make the ability to create one-of-a-kind works available to everyone interested. You can produce an unlimited number of animated text videos. Text blocks, blogs, articles, and other sorts of text may all be animated. To use this program, you do not need any prior knowledge or experience with animation. 
How to Use Mango Text Video Maker?
Time needed: 10 minutes
Want to create an animated text movie easily and quickly, but still stand out and grab your audience's attention? Mango TM can help. You may quickly produce a high-quality animated word film in under 10 minutes!
Download Mango TM and sign up for an account

Any Windows-based system is capable of installing the program. Download Mango TM and sign up for a free account on the Mango Animate website via the signup page. After creating an account, you may log in to utilize the text video maker.

Select the "New Empty Project" option

When you launch the software, you will find a straightforward user interface. Select the "New Empty Project" option from the drop-down menu to start a new project from scratch. Within the guide panel, comprehensive instructions will walk you through creating a brand-new project from the ground up. 

Choose what type of text video to create and config

• Add Subtitles to Video Mode, MV Mode, Subtitle Mode, and Rotated Text Mode are the four options available from the drop-down menu.
• Select a canvas with a ratio of 9:16, 16:9, or a custom size.
• In the Intro & Outro menu, configure any outro and intro settings by adding audio, featured image and title.
• Choose a typography style to apply appropriate animations, tick Add icons automatically to match the icons to your text, and at last import your text.

Enhance your video with media assets

During the creation process, some of the necessary items are textual material, audio, and pictures (GIF, JPG, SVG, and PNG formats). Mango TM includes many additional materials right out of the box. You can use items from the resources library or incorporate locally sourced stuff. 

Export the final project as a video or gif

Once you've added items to the canvas, you'll have the opportunity to modify their properties in any way you see fit. After you have completed that step, it is time to export your project. Publish your project to the cloud or as a video/gif.

Create Your Own Text Animation Video
Mango Text Video Maker Features
1. Animated Text Video Templates
A wide variety of pre-made templates. Each pre-animated design comes with appealing font animations and an appearance that the user can customize. Quickly pick, create, and modify one-of-a-kind kinetic typographic films. To produce attention-grabbing material, you can select the typewriter effect, sliding, or bouncing, along with many more motion typography possibilities. 
2. Text to Speech
Adding a voiceover to your animated text video can take it to the next level. You can record your voice by simply hitting the Record button or using the built-in TTS function. Text to Speech (also known as TTS) is a function that will assist you in converting material into voices that sound as realistic as possible. You have complete control over your TTS by selecting from among the many representatives that seem natural and are available in various languages.
3. Speech to Text
To convert voice to text, all you need to do is import either your video or audio file. Your content will be converted into a movie and animated uniquely using typography. Altering the text's size, colors, fonts, and other settings and adding text to films later are all options available to you.
4. Auto-implement Icons to Text
You will get access to an extensive icon collection that is constantly being updated. Each icon may be used without cost and is of an excellent standard. After your material has been converted to video format, the text video icon program will choose appropriate icons to represent it.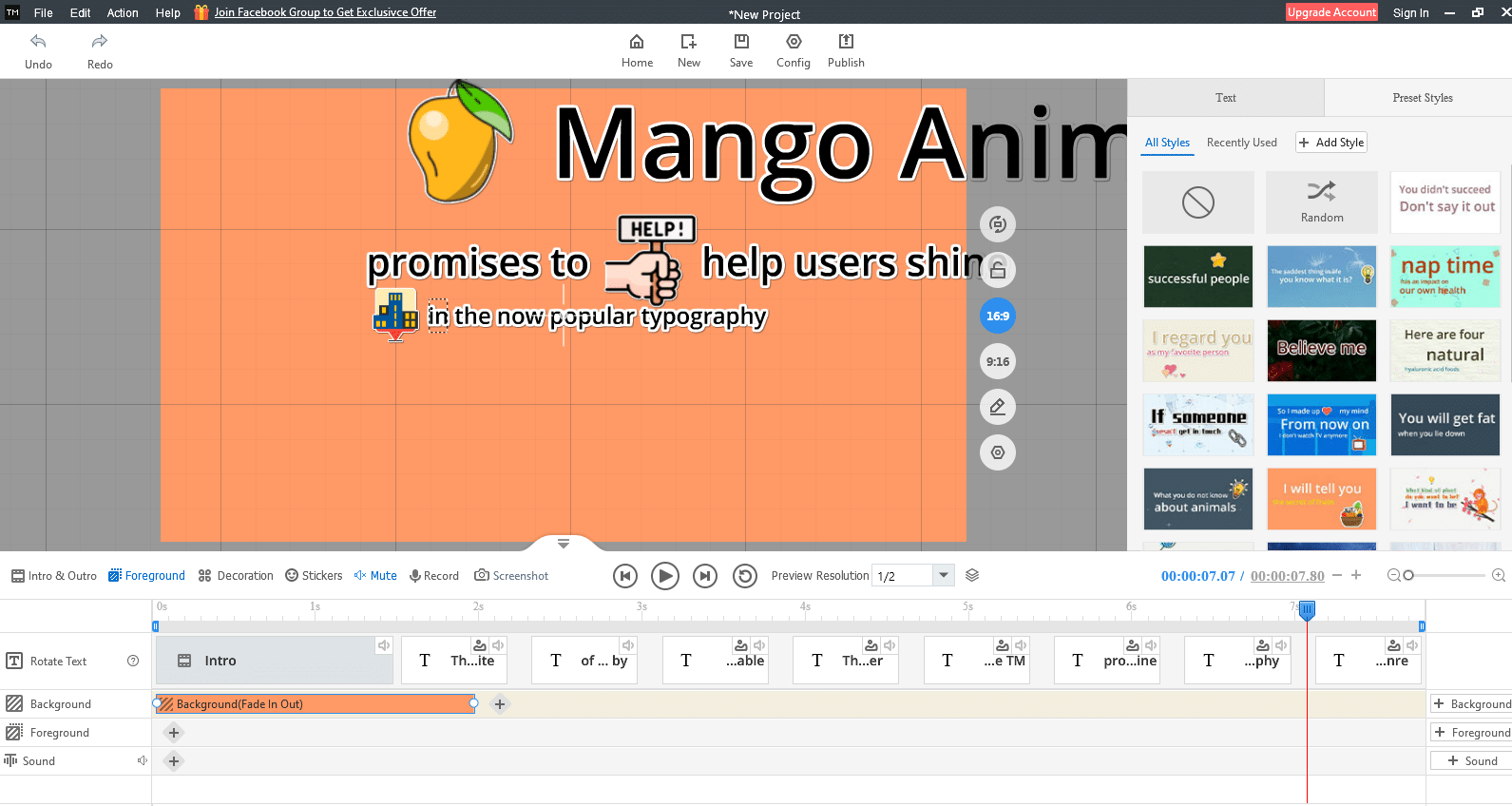 5. Multiple Text Video Types
Many motion typography styles may be applied to articles that have been transformed into videos, and videos can be tailored for usage on social media sites. You can choose the MV mode, the Subtitle mode, the Rotate Text mode, and other settings. You are free to adjust the aspect ratios as you see suitable.
6. Simple in Operation
This tool may be used by anybody, regardless of their prior experience or level of technical expertise. It couldn't be much easier than that! It is possible to automate the addition of motion graphics, icon creation, and video backdrops, as well as the animation of typography.
7. Customize & Export
It simply takes a few clicks of your mouse to make the necessary adjustments to your kinetic typography project's cover, size, and other settings. Videos may be exported in various formats before being posted to websites such as Vimeo, YouTube, or TikTok, among other sites of a similar kind.
Mango Text Video Maker Pricing Plans
There is also a premium version and free of a program available. People will be able to turn text into videos with the use of the free version. Be advised, however, that any films you make with the free edition of Mango Text Video Maker will have a watermark inserted into them automatically.