The world of digital animation has been expanding significantly in recent years, forcing numerous businesses to communicate with their audience through animations. Animations can help you simplify complex messages and briefly express your brand and features to users. That said, the need for an animation maker or animated video software has soared recently.
Mango Animation Maker is one of the most popular tools you can currently find on the market to create stunning animations. Both professional and beginner users will find the software easy to work with and capable of fulfilling their needs. In this post, we are going to know the software further and see if it is worth the price.
In simple terms, Mango Animation Maker (AM) is an intuitive animation software program that helps you create quick animated videos and gifs with ease. The software provides users with countless templates, subtitles, and many other attractive features.
Mango Animate has been active in the creative industry since 2003 and offers some other pieces of software in addition to Animation Maker. The company enjoys the accompaniment of over 2.5 million users worldwide, absorbing over 1000 business partners since the first day.
Main Features of Mango Animation Maker
Mango Animate AM is packed with several tools and features you need to create an animated video. Let's review some of the main features of the software.
1. Thousands of Free Templates
Mango Animate AM is overflowing with free templates to help you create an animation in a flash. Even if you are a beginner, you will find yourself quickly creating videos like a pro. You just need to choose the right template and replace the content with yours.
You will find a complete set of free images, SVGs, animation widgets, SWFs, effects, shapes, symbols, and charts to enrich your animated videos even more. All of the free assets are ready to use and just some clicks would go a long way.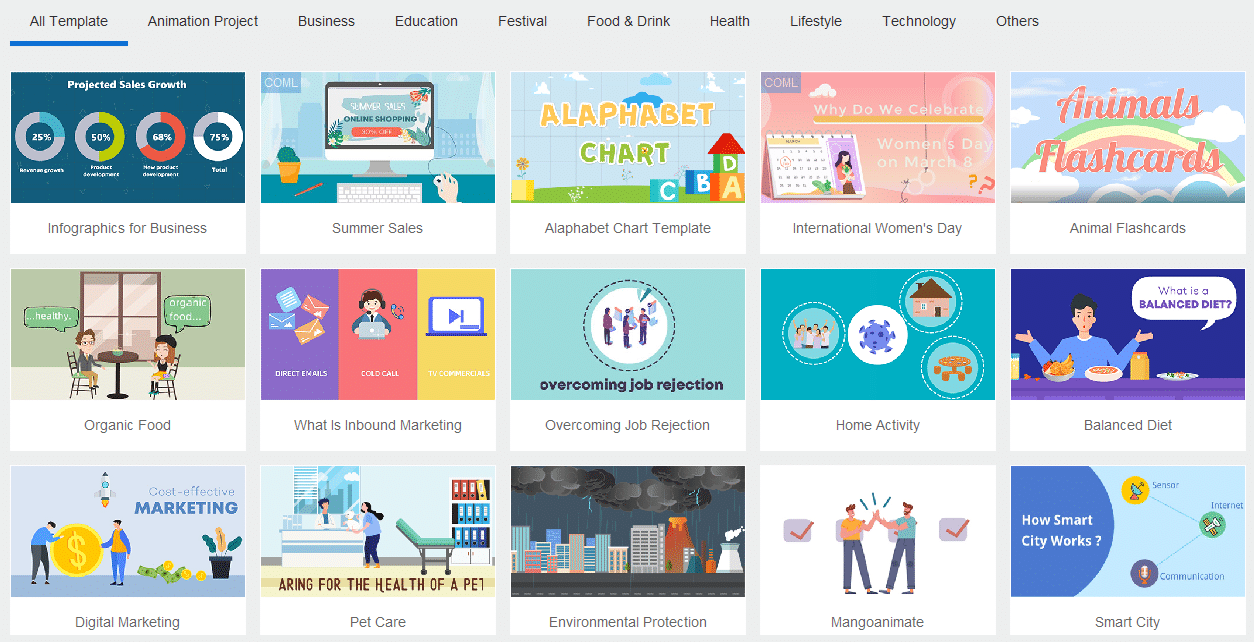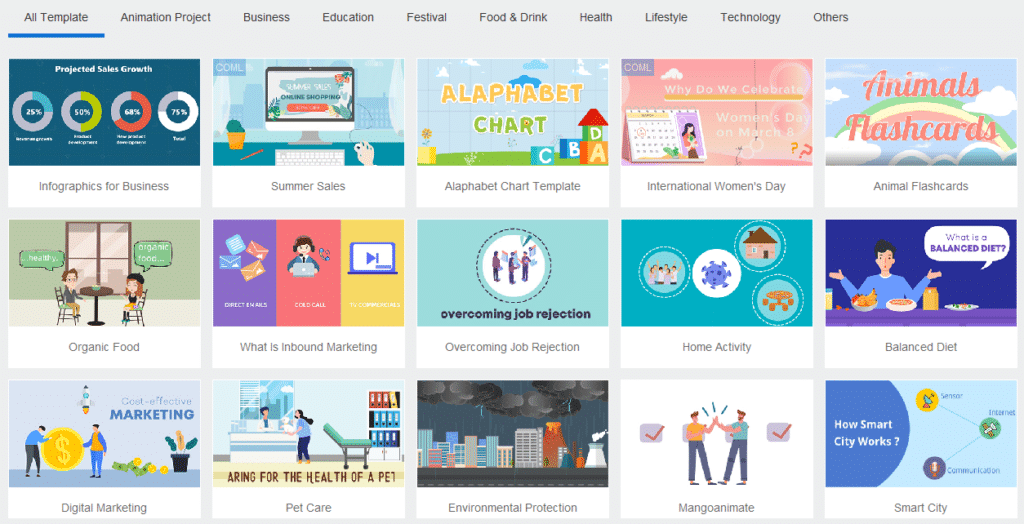 2. Subtitle and Recording
You can add captions and voice narratives to the story with Mango Animation Maker. The interesting point is that you can record your voice and add it to the video to make the results more personalized and engaging. Also, customizable subtitles help your audience grab the message of your content with ease.
To record your voice, you can click on the record button and initiate the countdown. You are allowed to stop, pause, or re-record your voice if you want. The best part is that you may edit the file ultimately to improve it.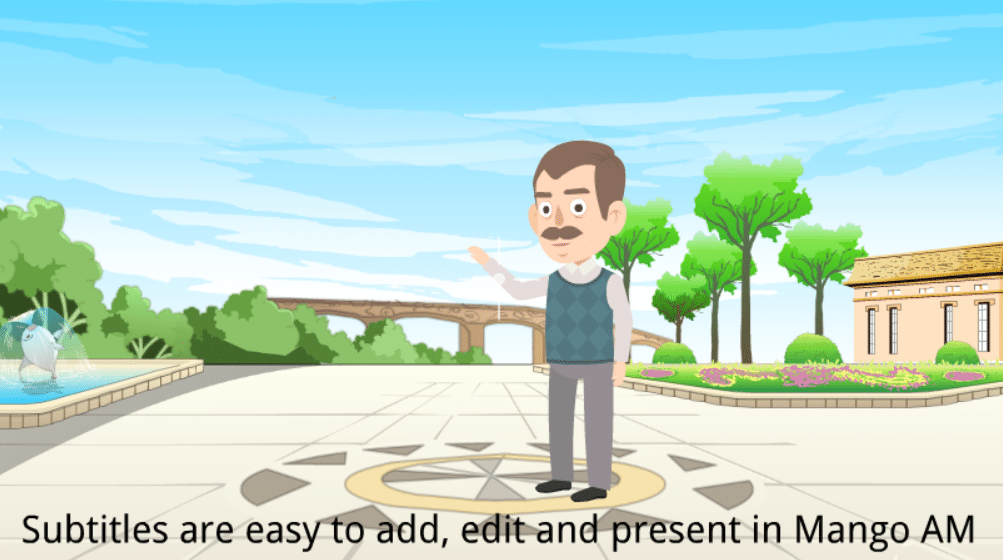 3. Dynamic Roles
Mango's animated video software offers over 40 types of characters who can speak your message clearly to influence your audience even more. This feature covers a wide range of various characters you may need, including:
Teacher
Businessman
Doctor
Waiter
Student
Police
Tour Guide
Worker
Customer
And more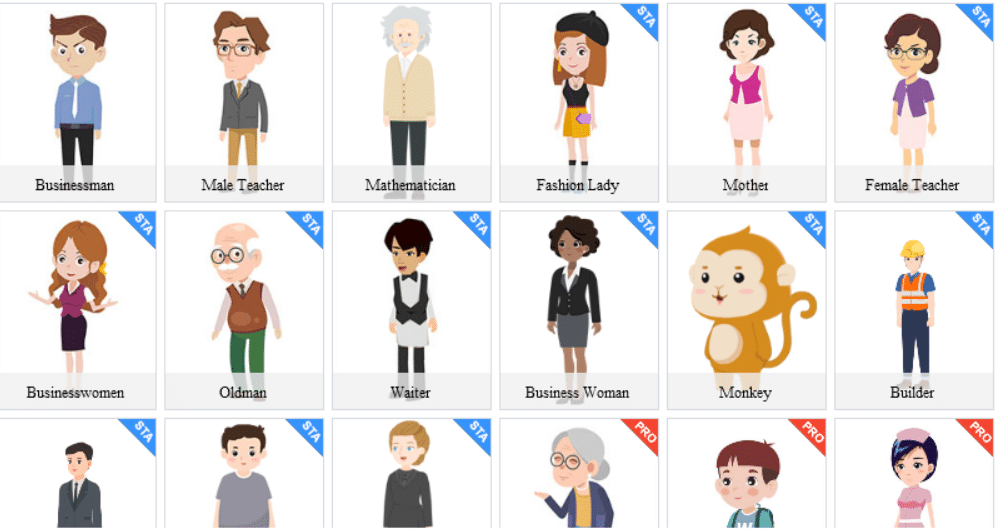 4. Multi-Track Timeline
The software provides you with a multi-track timeline to help you control every segment of your video. You will be able to use the timeline for different aspects of the video, including the camera, background, foreground, and animation. The feature allows you to have a zoomed-out view of the whole animation to customize the effects and duration easily and in real time.
5. More Features
Apart from the main features mentioned above, Mango Animate AM comes with several other features to enrich your animations with worthwhile content.
Animation Effects: This feature helps you use three types of animation effects to add an emotional impact to the videos and make them more exciting.
Flexible Video Distribution: The software helps you share your animated work as an online video, offline video, or gif. Later, you can share it on any social media too.
Stunning Scene Transition: Mango AM offers a natural method to transfer one scene to another. Natural effects such as Hand Pull, Blind, Flip Book, and Shop Line help you enhance your video with perfect transitions.
Lively Camera Settings: This feature allows you to directly set your desired camera settings on the videos, including zooming, panning, and rotating the scenes.
Pricing and Availability
Mango Animation Maker is currently available for PC-based systems. You can use the software on Windows XP, Vista, 7, 8, and 10. In the case of pricing, the software is offered in three versions: free, professional, and enterprise.
The free version allows users to install the software and use it with limited features. Obviously, paid options provide you with more and better features. You can purchase the professional and enterprise packages for $49 and $199 for a lifetime, respectively. The enterprise package makes the whole software unlocked to help you use all of the features easily.
What's more, you can also purchase the lifetime bundle offered by Mango Animate. You can bundle 2-3 pieces of software offered by Mango in one package at more affordable prices.
How Mango Animate AM Works
Once you purchase the software or install the free version, it is easy to create and finally share your first project through four main steps:
Choose a Template or Start from Scratch: Beginners can use one of the ready-to-use templates to start their projects. Otherwise, if you already know the job, you can start from scratch and manage all elements by yourself.
Add Multimedia Content: Use the drag-and-drop feature to add images, shapes, charts, subtitles, voice narration, and other content.
Animate Everything: You may add three main animation effects on the entrance, emphasis, and exit.
Publish and Share: Ultimately, you can publish or share your animated video or gifs either as an offline or online video. It is also possible to share your results directly on social media platforms.
Is Mango Animation Maker Worth It?
Mango Animation Maker is certainly a great piece of animation software that is easy to use and comes with a plethora of features to help users create unique animations. Anyone from online teachers and businessmen to different customers and amateur animators can take advantage of all features offered by Mango Animate AM.
The best part is that users can easily go with the free option and install the software to try it. This way, you can test features and see if the software is worth it in your case. In general, Mango's software is undoubtedly one of the best tools to create stunning animations.
Create Animation Videos & GIFs Easily with Mango Animate AM