A well-crafted lookbook is a powerful tool, offering a glimpse into the heart and soul of a brand while captivating its audience. If you're seeking inspiration to craft your own or simply looking to immerse yourself in the art of fashion, we'll explore eight remarkable lookbook examples that are sure to ignite your creative spark and provide a wealth of inspiration for your next fashion endeavor. Join us on a journey through the creativity and innovation of fashion lookbooks as we explore how they continue to shape the industry and leave an indelible mark on the runway of visual storytelling.
This captivating lookbook showcases a blend of elegance and creativity, immersing you in a world of alluring designs and luxurious photography. With its striking color palette and impeccable layout, it offers a visually stunning narrative of style and sophistication. If you're searching for inspiration or a beautifully crafted lookbook to elevate your brand, the Cherry Lookbook is a work of art that promises to leave a lasting impression.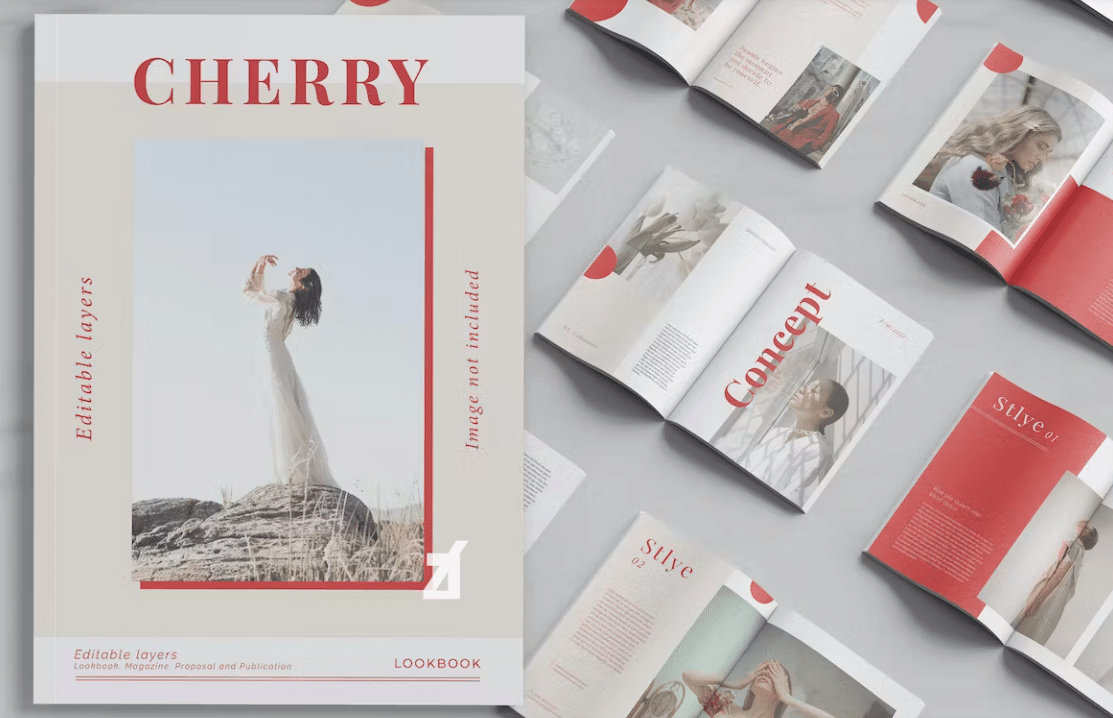 With its captivating design, high-quality imagery, and user-friendly layout, it provides a seamless platform for fashion enthusiasts and brands to present their collections in a visually stunning and accessible manner. Whether you're looking to inspire, market, or simply exhibit your creative work, this template offers a sophisticated and functional solution to beautifully showcase your fashion creations.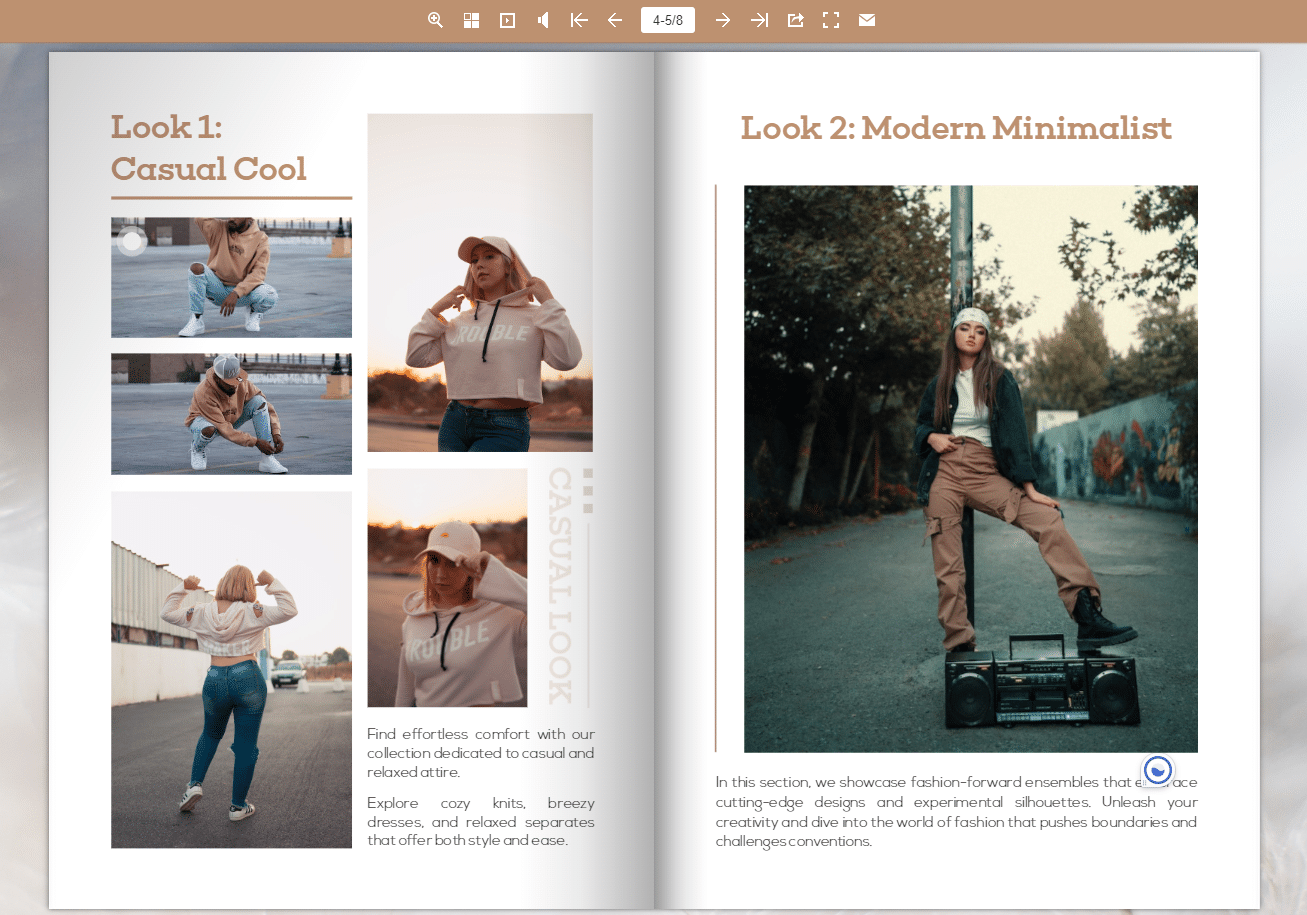 This carefully curated lookbook is a visual masterpiece, boasting impeccable design and sophistication that beckons the viewer into a realm of high fashion. With its seamless blend of exquisite imagery, typography, and layout, it offers a powerful platform for designers and brands to tell their unique stories.
With its meticulously crafted design, it provides an alluring canvas to showcase exquisite jewelry pieces. The layout's sleek composition and intuitive navigation make it a perfect choice for jewelry designers and brands looking to captivate their audience with elegance, allowing for a seamless presentation of their luxurious collections.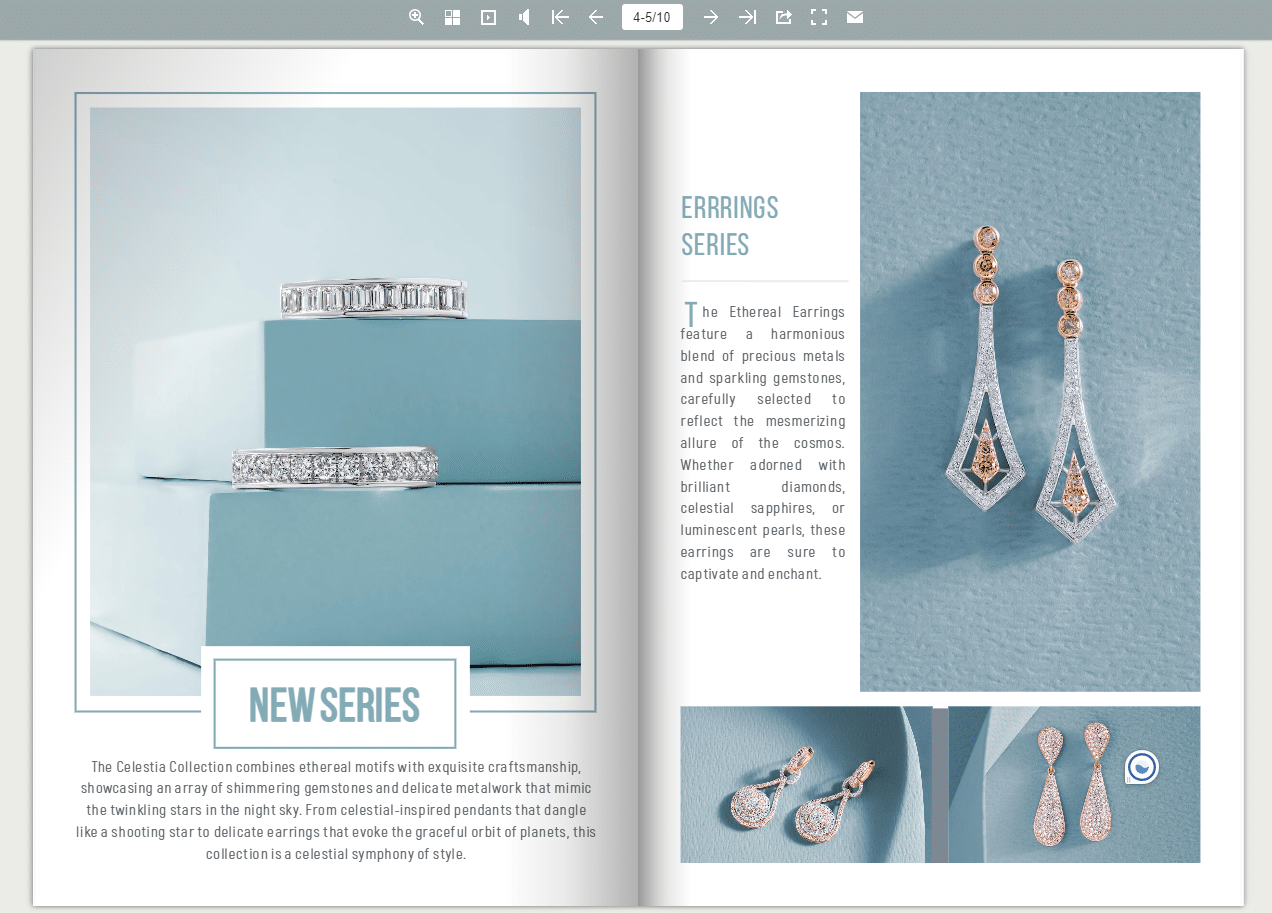 This visually stunning lookbook example offers a captivating showcase of fashion and style. With its sleek design and high-quality imagery, this lookbook is a versatile tool for fashion designers, photographers, and brands looking to present their collections in a professional and engaging manner.
Dive into a world of contemporary elegance with this exquisite lookbook example, available on Envato Elements. Featuring a seamless fusion of artistic design and premium photography, this lookbook is a remarkable resource for fashion aficionados and designers seeking to showcase their collections with sophistication.
Immerse yourself in a world of clean lines, bold typography, and striking visuals, making it the perfect choice for fashion designers, photographers, and brands with a contemporary edge. This impeccably designed lookbook sets the stage for contemporary style with its sleek layout and high-quality visuals. Ideal for fashion brands, photographers, or designers looking to showcase their creations with a touch of elegance, this lookbook offers a captivating canvas for your latest collections.
With its soothing color palette, playful typography, and carefully curated layout, it perfectly encapsulates a laid-back yet sophisticated vibe. Whether you're a fashion brand seeking to showcase your weekend-inspired collection or an artist needing a fresh and approachable portfolio, the Sunday Lookbook's design is an inviting and versatile choice to engage your audience and convey your unique style.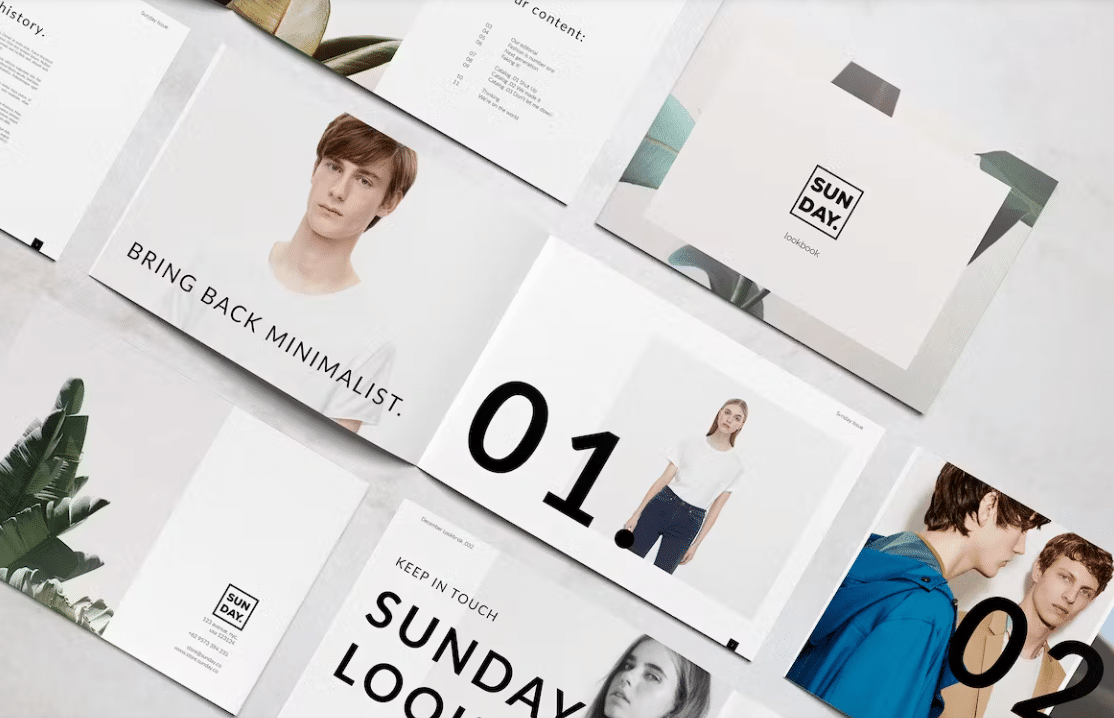 Revolutionize Your Publications with Flip PDF Plus Pro
Flip PDF Plus Pro is a dynamic and user-friendly lookbook creator designed to transform your content into captivating digital publications with effortless ease. This innovative software offers an array of powerful features that enable you to create stunning lookbooks, catalogs, magazines, and more, all with a page-flipping effect for an engaging reading experience.
Branding and Customization: Users can add their branding elements, logos, and custom backgrounds to create a personalized look for their publications.
Plantillas personalizables: The software offers a wide range of customizable templates and themes to suit different styles and content types, saving time and effort in design.
Cross-Platform Compatibility: The publications created with Flip PDF Plus Pro are compatible with various devices, including desktops, tablets, and smartphones.
SEO-Friendly: It provides SEO options to optimize digital publications for search engines, improving their online visibility.
Conversión por lotes: Users can convert multiple documents into digital publications simultaneously, saving time and streamlining the publishing process.
Conclusión
The eight stunning examples showcased in this article have demonstrated the infinite possibilities that exist within the realm of lookbook creation. From sleek and minimalistic designs to vibrant and bold presentations, each lookbook offers a unique approach to capturing the essence of a brand or designer. By exploring these creative avenues, one can draw inspiration to redefine their lookbooks, breathing life into their collections and brand identity. So, whether you're a seasoned fashion professional or an aspiring designer, let these examples inspire your journey toward creating visually arresting and unforgettable lookbooks that resonate with your audience and leave a lasting impression in the fashion landscape.